Registration is NOW OPEN: http://dallasfortworthnokillworkshop.eventbrite.com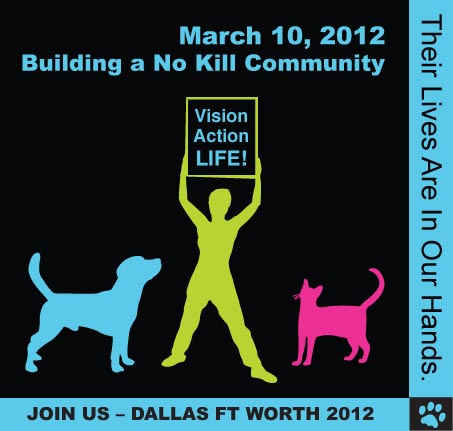 WHO SHOULD ATTEND:  Animal advocates, animal welfare and humane organizations, rescue groups, students, activists, animal law attorneys, researchers, academia, animal control officers, animal shelter board of directors and oversight committee members, shelter directors, employees and volunteers, elected officials at the city, county and state levels, tax-payers, and anyone else who wants to help move their community's animal welfare system into the 21st century. This workshop is designed for YOU. The person that wants to implement, inspire, and/or lead change in your community. Think one person can not make a difference? Come meet our Speakers who have been catalysts in creating no kill communities. Leave inspired, informed, and with a blueprint of what you can do to save lives.
The No Kill Dallas/Ft Worth Workshop registration will open very soon. Here is a snapshot what this information-packed day will offer …
Date: Saturday, March 10, 2012
Time: 9:00am – 6:00pm
Location:
Addison Conference Centre
15650 Addison Road
Addison Texas 75001
Hotel Accommodations … there are several hotels within walking distance to the Addison Conference Centre; we will select a hotel the week of January 9, 2012 to be the host hotel and reserve a block of rooms.
Speakers:
Nathan Winograd is a graduate of Stanford Law School, a former criminal prosecutor and corporate attorney, has spoken nationally and internationally on animal sheltering issues, has written animal protection legislation at the state and national level, has created successful No Kill programs in both urban and rural communities, and has consulted with a wide range of animal protection groups including some of the largest and best known in the nation. He is also the founder of the No Kill Advocacy Center.
Dr. Ellen Jefferson is the Founder of Emancipet,  Executive Director, Austin Pets Alive, and a Veterinarian. Austin is not only the largest Texas open admissions city shelter to choose to become no kill, they are the largest in the US and Ellen has been a leader in Austin.
Cheryl Schneider is the Williamson County Animal Services Director. Located in Georgetown Texas, Wilco is currently the only open admissions county shelter in Texas to choose to become no kill.
Sgt. Karl Bailey is the Seagoville Animal Shelter Director. Under Sgt Bailey's leadership, the open admissions shelter dismantled the gas chamber, created a community volunteer group, and became a true no kill shelter.
Micheal Kitoski is the founder of Rockwall Pets. Michael has worked closely with the City to not only increase adoptions, but to also vote to become a no kill open admissions shelter.
Patty Lepley Alexander is the Austin Pets Alive PASS Coordinator. Positive Alternatives to Shelter Surrender (P.A.S.S.) is a service provided by Austin Pets Alive! (APA!) to help people help their pets to find new homes or to stay in their current homes.
Alva Logsdon Cranford is the founder of Pawsitively Texas, a social media marketing professional, and a native Texan.
The Full Day Workshop Will Include:
• The No Kill Equation
• Increasing Pet Adoptions
• Programs to Reduce Shelter Intake such as Spay/Neuter and PASS
• Feral Cat TNR Programs
• Shelter Medicine and Disease Management
• How to Build a Membership Program and Raise Funds
• Social Media, Marketing, and Public Relations
• Learn how local each shelter achieved no kill
• And more!
This is also an interactive workshop which means you will be able to ask questions of the Experts.
Each attendee will receive a workshop manual that will enable you to leave with a blueprint of what you can do for the shelter pets in your community!
We will open registration mid week the week of January 9, 2012; as you can see from our blog post, we really hope to raise funds to underwrite the workshop expenses so that we can offer a low admission fee. How much we raise through contributions and sponsorships will determine admission fee. If you would like to make a contribution to help reduce the cost for others to attend, here is our Chipin page where you can contribute: http://pawsitivelytexas.chipin.com/the-dfw-no-kill-workshop-march-10-2012  If you would like to become an Official No Kill Workshop Sponsor, click here: http://pawsitivelytexas.com/dallas-ft-worth-no-kill-workshop-save-the-date/no-kill-workshop-sponsors/