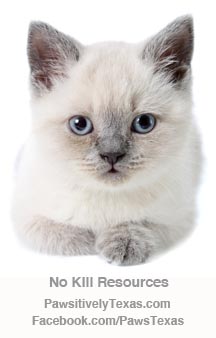 I find that some people do not understand what No Kill really means for animal rescue. I've seen posts against the no kill initiative stating the animals will spend their lives in deplorable conditions, receive little to no social interaction, and be stacked high in kennels. That could not be further from the truth to what becoming a no kill city, county, state, or nation means. This article, written by Ryan Clinton, is one of the best I've seen that truly explains what No Kill Is and Is Not. It is my hope that you'll read it – and then share it. I also hope you'll take a few minutes to watch the 3 min video with Ryan Clinton and the 30 minute interview with Nathan Winograd – you will learn so much; then I hope you'll share them too. (More links below the video).
This page is designed as a Resource page for the No Kill Initiative in Texas. The links below will open in a new browser window. To submit a link to be added here, please email me using this form: http://pawsitivelytexas.com/submit-a-story
Ryan Clinton, No Kill Advocate Blog: O is for Onward.
No Kill Texas Advocates Click here for the No Kill Texas site. Here, you'll find a list of Texas House of Representatives and Texas Senate members. One thing I really love is they are collecting the statistics for Texas city and county animal shelters; we need to know what is happening in our shelters. The site also includes a link to find contact info for city or county representatives. And if you're not yet registered to vote, they have a link for that too.
Pages on Facebook That Promote No Kill:
American Pets Alive (founded by the folks that helped lead Texas in becoming the first No Kill City, Austin Pets Alive!)
Nathan Winograd, Director of the No Kill Advocacy Center
Redemption: The Myth of Pet Overpopulation & The No Kill Revolution in America (cliff notes version)
No Kill Advocacy Center – The No Kill Equation
No Kill Advocacy Center  – Reforming Animal Control (Fantastic links for helpful info)
Ryan Clinton, No Kill Advocate