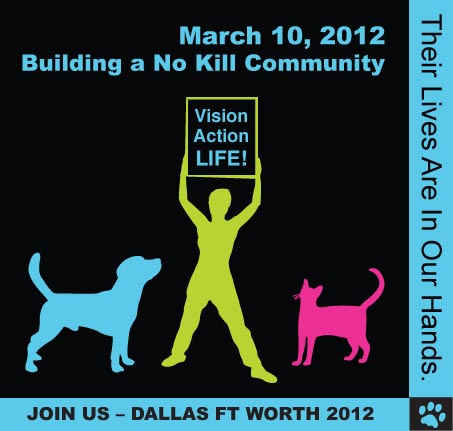 Thank you for your support of the DFW No Kill Workshop! To sign-on to be an Official Sponsor, please complete the form below. When I receive your email, I'll reply back with a link to our Paypal account. Once you submit a $250 or more payment to the Paypal account, I'll begin promoting your business as a Workshop Sponsor. For a contribution of $250 or more, you will receive:
• a table at the conference (expo area) to display your products or literature and meet with attendees during workshop breaks
• receive 1 ticket to the workshop
• listing on our Facebook Page (we reach more than 31,000 with approximately 10,000 in the DFW area)
• listing on our website (link juice, which search engines like for page rank)
• listing in the conference manual (your business name, address, phone, website, and Facebook page)
This is a tremendous opportunity to reach the pet community at a low cost. And even better than that, it is for a tremendously good cause with lasting impact! If you can afford to make a financial contribution above $250, I will greatly appreciate it. We need a minimum of $7,000 to underwrite the conference so that it is affordable to all. This low-price Sponsorship is only available a single Business or Organization – IF you wish to organize a group of  Sponsors from your Community, message me and we'll work out something fantastic for your group too! Sign-up now!
Sign-up form deleted; event was successfully held in 2012! A sell-out!