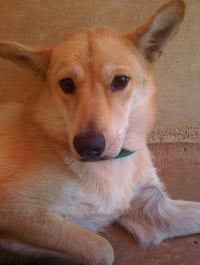 June 8, 2011
Animal Rescue Story
* Updated Saturday, June 11 – scroll down to the end to see a short video of this HANDSOME dog a couple days after rescue!
IT'S ALWAYS DARKEST BEFORE DAWN … a couple days ago King's owner surrendered him to TLAC with a  roughness that grieved observers. He reportedly surrendered King, a pup adopted just six months earlier for the stated reason "he's not purebred." Just a young pup at 10 months of age, King exhibited signs of abuse. Patty who brought us story to us on our Facebook.com/PawsTexas page said he winced when you reached to pet him and she had to pull him out from under the bed for a photo. Dogs like this do not fair well in an animal shelter environment with two strikes against them, owner surrenders can be killed immediately if animal control chooses – and a shy/timid/or abused dog is often passed by for the more out-going pets.
Yesterday afternoon, King went on the kill list which meant "any time" because the shelter was full, they'd killed 16 dogs the day before. People began to network him again and several expressed interest. Today, we have good news to report; King is safe and relocating from Austin to the North Texas area thanks to the Collin County Humane Society that rescued him! The photo below is him loaded up ready to be chauffeured to his foster home (he is a King, you know).
If interested in adopting King, contact the Collin County Humane Society (CCHS). Shelter walkers, networkers, animal rescue groups, it truly takes a village to save the lives of these precious shelter pets! Much appreciation to Patty at Austin Pets Alive!, the great folks at CCHS, and everyone that networked King – he got his miracle after some very dark days! And regarding the "purebred" issue, all I can say is Dog is an an amazing creation and purebred or not, they simply pure of heart with unconditional love.
Happy New Life, King!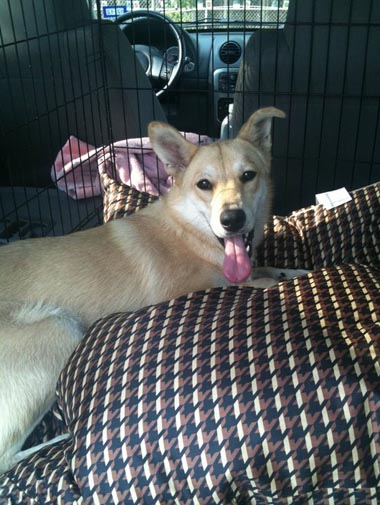 Networking is a powerful tool we have to save the lives of the precious animals that depend on us so. Please continue to invite friends, family, and colleagues to join us here on Pawsitively Texas! And if you haven't already, add your email address to our subscription box in the upper right column – you'll be notified when new blog posts are published here (that's all, no spam from us!).
Updated June 11 – check out King enjoying his new life – what a GORGEOUS dog he is! So unbelievable he was a throw away!