26 June 2012 
Do you need more foster homes for your animal rescue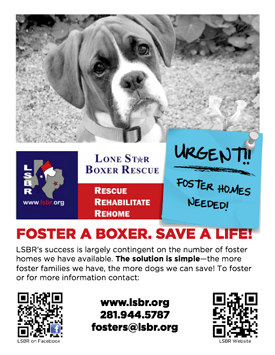 group or animal shelter? Check out the creative way Lone Star Boxer Rescue is raising awareness for their Foster need. They created eye-catching flyers they have posted in a local vet's office, and share a link on their Facebook page where friends and volunteers can download a copy of these flyers and post anywhere they are allowed to help raise awareness. Great work, Lone Star Boxer Rescue! You can see and download their foster recruitment flyers by clicking here.
The foster recruitment flyer includes several key things for success:
great eye-catching photos!
the foster need and a call to action
how to contact them … website address, phone, email, and a QR codes that people can scan with their mobile phone to see their website and Facebook page.
When I first launched Pawsitively Texas in 2008, I created some similar downloadable flyers to help raise awareness for animal rescue and shelter pet adoption. I created one for shelter pets; the goal was to raise awareness that you can often find a purebred pet at the local animal shelter. I also created promotional cards can be downloaded  and passed out anywhere for a blitz awareness campaign. Just download, print and distribute. Together, we can raise a lot of awareness for shelter and rescue pets! You can see and download The Face of a Shelter Dog here and  the promotional cards here.
You can also download and post any of these graphics and flyers on your Facebook profile and other networking pages as well as email to friends, family, and co-workers. A great way to effectively raise awareness for your animal rescue or animal shelter needs at essentially no cost. Use these examples as best practice idea generators to create your own no cost marketing program! By finding local businesses in your community that will allow your organization to post flyers, you are reaching outside the Rescue community to find new fosters and volunteers while raising awareness for your organization too.
If you have an effective foster and volunteer recruitment tip to share, please post it in the comments below, or message me via the form on this page. I love sharing best practices of what's working so everyone can be a stronger, more effective organization in helping the animals. You can learn more about Lone Star Boxer Rescue on their website.
Subscribe Now: Be sure and subscribe to follow the Pack and never miss an informative Pawsitively Texas blog post! Add your email address, then click the Subscribe Now link. Look for the yellow/orange icon in the upper right column. No worries, we'll never spam you, you'll only receive an email notifying you of new blog posts on Pawsitively Texas.