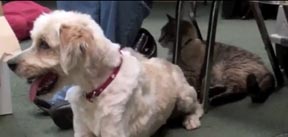 April 11, 2011
Buddy & Max touched our hearts when Patty posted their story on our Pawsitively Texas Facebook Page. Their Dad, a senior citizen, had to tearfully give them up to the Austin pound when he feared he would lose his home. This is the video where we first met Buddy the dog and Max the cat …
Kind folks decided to clean Buddy up so he would be ready to meet prospective new parents; he was adorable when dirty and matted, but now with his new look, you can see his true beauty, especially his eyes!
This video is an update to Buddy & Max's story…
Today, we celebrate with all the Austin and online networking folks that work so hard to save lives, Buddy & Max, their new Mom, and sister Sunny! Special thanks to Patty Leply Alexander for sharing Buddy & Max with us and allowing us to love them and follow their story! Happy New Life, Buddy & Max!
Pet adoption saves lives!