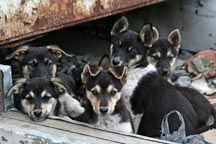 April 11, 2011
The Metroplex Animal Coalition Mayoral Forum was held Sunday, April 10, at the Dallas Public Library. You can listen to the Forum by clicking this link. (Note: links to audio will open in a new pop-up window.)
I've listened to the entire Forum, here are a few of my personal take aways …
One candidate and current Dallas Councilman states that DAS is saving 80% of animals and does not believe No Kill is attainable. He's on the Dallas city council and does not know what the kill rate is in the shelter? Even though the animal services statistics are published in the commission's report.
One candidate felt the question of No Kill was a trick question referencing the book Sophie's Choice and pointing out other difficult issues such as the homeless in Dallas and job training for people in jail. Then circled back after another candidate spoke correcting the numbers and supporting the no kill initiative and said no one was advocating killing animals. I believe his points were these are difficult issues. He has pets and gets them from someone that breeds litters every so many years. He speaks to the moral leadership needed in Dallas – and that this is a moral, ethical issue.
One candidate stated is afraid of dogs, but said he does keep his sister's cat on occasion. (He said more, but I had a hard time understanding him as he has a beautiful accent that I was challenged to understand each word with the soft background noise.)
One candidate – in response to the no kill question, says he believes you set goals and work to achieve them. He said he believes we should set no kill as our moral goal and work towards it. He also corrected another candidate's erroneous facts that DAS is 80% save, when it is in fact approximately 70% kill. He has rescue dogs adopted from a Dallas rescue.
I hope that you will listen to the Forum in it's entirety so you can make your own decisions about which candidate is most interested, not just in leading Dallas, but in leading positive changes for the animals at the Dallas animal services. If you are a Dallas resident and not yet registered to vote, you have only a few more days to do so.
Thanks to all the folks at MAC that were involved in organizing and hosting this forum for issues at the Dallas animal services – and making it available online for all to have a chance to listen.