May 15, 2011
Now this is a story to celebrate! Thank you Jeanne for posting this wonderful update to Cheeto's story on our Facebook Page.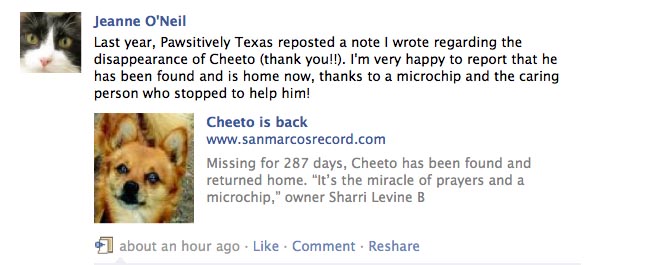 As Jeanne says, she shared Cheeto's plight last year on our Pawsitively Texas Facebook Page and many folks networked and prayed for his safe return. But good news never came. I remember his story, because Cheeto was an advocate going into local schools teaching kids about treating animals with kindness as an ambassador for Prevent A Litter (PALS). Sadly, we see more missing dog posts than we would ever like to see, but his volunteer work with kids made him a bit more memorable.
But today, we can joyfully announce Cheeto is back home … after 287 days missing! So many people passed him by sitting on that busy highway, but thankfully, a good Samaritan named VJ Andrews, stopped to not only save him, but helped him find his way back home. His collar and tags were no longer on him, but his microchip was his ticket home. Now, if only Cheeto could talk and tell us all about his adventures these last 287 days, I'm sure that would make a pretty awesome story too!
Thank you to all that network and pray for these lost pets – and to those Good Samaritans that make miracles come true! Networking is a powerful tool we have to save the lives of the precious animals that depend on us so. Please continue to invite friends, family, and colleagues to join us here on Pawsitively Texas! And if you haven't already, add your email address to our subscription box in the upper right column – you'll be notified when new blog posts are published here (that's all, no spam from us!) – and you won't miss any of the great stories!