24 September 2013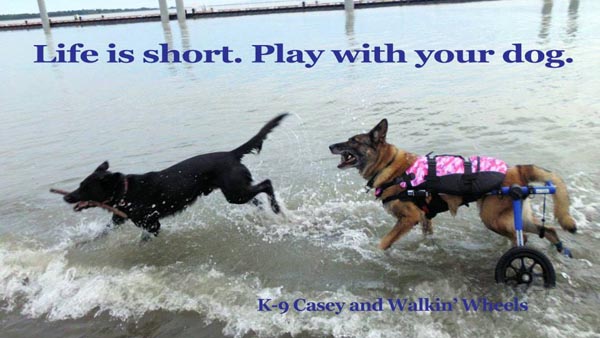 ©Handicapped Pets
A great opportunity is at hand for Handicapped Pets and it is something the pet loving, animal rescue community needs to get behind and show support! Mark Robinson, the founder of Handicapped Pets Walkin' Wheels Wheel Chairs, is a finalist for the "Get on the Shelf" contest sponsored by Walmart. The winner will have their product sold on the shelves of the retail giant. If the pet wheel chairs can be sold in a major retailer, it will not only make the product more accessible to pet owners and animal rescues, it will also create much needed awareness that pet owners have a chance to keep their pets longer vs. euthanizing them simply because they lose the use of their legs.  As Robinson says:
"I realized that pets were their family. And for the most part, these animals are happy, healthy, and full of life, they just couldn't walk any more. This business was built by the dog caretaker community; they told me what they needed. So for me, this wasn't so much about creating and leading a business, it was about listening. The success of this company will be based on how many dogs' lives we can save."
Robinson says they are working on a model for cats!
Please do three things …
Watch the video (below)
VOTE  DAILY THROUGH September 27 for Walkin' Wheels Dog Wheelchair by clicking this link: https://getontheshelf.walmart.com/product/1379/Walkin–Wheels-Dog-Wheel  (Note: like most apps, to vote, the Walmart app asks for access to your Facebook profile)
Share this post with your animal loving network asking them to also vote and share!
Subscribe Now: Be sure and subscribe to join the Pack and never miss an informative Pawsitively Texas blog post! Simply add your email address, then click the Subscribe Now link. Look for the yellow/orange icon in the upper right column. No worries, we'll never spam you, you'll only receive an email notifying you of new blog posts on Pawsitively Texas. Thank you for your support of my work for the pets!