January 5, 2012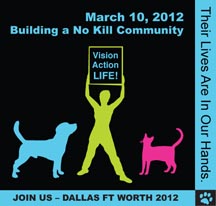 As you may know, Pawsitively Texas is hosting a No Kill Workshop in Dallas/Ft Worth for all that want to learn more about saving the lives of shelter pets. On March 10, 2012, we'll meet at the Addison Conference Centre in Addison, Texas. We have a stellar speaker line-up including national no kill advocate, Nathan Winograd, and leaders from each of the four Texas no kill communities. These are people that have successfully worked in the trenches of rescue and shelters big and small, metro and rural, and some with little budget and still achieved no kill success. And when I asked them if they would speak to us, to inspire us and show us how they did it, without hesitation, they each said "Yes!"
How lucky are we?!
I've always believed one person can make a difference. And when a lot of people come together, we can change our world. I started Pawsitively Texas as one person with no budget. But you joined me in my vision and together, we're really making a difference for our communities and the shelter pets. The idea for the no kill workshop seemed the obvious next step. We all want change, we want to see the needless killing stopped, and now with this no kill workshop we have the amazing opportunity to learn how we can save more lives. This is a very exciting time for us!
But I need help!
The workshop comes at a cost. Typically, the price of admission for any event is designed to cover the expenses. But, times are very tough for some people, and many shelters do not have the budget to send their employees. I do not want admission cost to be a prohibitive factor in keeping anyone that loves pets and wants to save more lives from attending. But we also have to cover the workshop expenses. I would love to keep the admission price under $30. But I need your help to do so. We have a lot of people that believe in what we're doing here at Pawsitively Texas and want to see less killing – and it is my hope, my prayer, that you will help underwrite this workshop. So that everyone who wants to attend, can afford to do so.
The costs for the conference include: facility rental, A/V, speakers' travel, lodging, and meals (they are speaking to us for FREE – we only cover their costs to do so). We are producing a very helpful manual and that too comes at a cost. We have a few other incidentals that add to our costs. The budget for the conference center/AV and speakers is approximately $7,000. The manual costs will be based on attendance numbers, so it will be included in the admission price to keep budgeting simple. I say "approximately $7,000" because I will reimburse speakers and actual travel costs will be based on day they purchase, so that is currently an unknown exact figure.
I've never asked for financial help before; I have self-funded Pawsitively Texas since I first launched it. When people have asked to donate, I have directed them to find a Rescue or Shelter in their community to support. I could definitely use the funds to do more with Pawsitively Texas (I have a lot of projects on the backburner), but believe the local communities need the money too. My request now is not for funds to go directly to Pawsitively Texas for my projects, but to solely help underwrite the expenses for this workshop. For decades, we've seen tens of thousands of precious pets killed annually in our tax-payer funded shelters in North Texas (millions in the USA). That is wrong. It is just a barbaric way of handling animal control that breaks our heart and keeps us awake at night. It's antiquated as there are proven measures to turn our communities into no kill. I so believe that this workshop will be a catalyst in helping more communities reduce their kill rate!
Will you help?
Pawsitively Texas is not a 501(c) 3 … but I will be very transparent in how much money is raised and how it is spent for the no kill workshop. I'll post here on the blog and updates on the PawsTexas Facebook page. Also, I will not be able to give you a tax-deductible receipt. But, if you believe in paying it forward, karma, or that God blesses a sacrificial heart, than the tax-deductible receipt may not matter as much.
There are two ways to financially support this no kill workshop as an underwriter:
• Individual contributions
• Sponsors
If you would like to make a donation, you can do so through the Chipin account we set up for this purpose; click here to contribute (update: no longer accepting donations).
If you are a business and would like to sponsor, you can use the form to submit your commitment; click here: ((update: no longer accepting donations).)  Upon receipt of your email submitted through that form, I'll send you a Paypal link to submit your funds. Sponsors will receive several benefits including:
• a table at the conference (expo area) to display your products or literature and meet with attendees during workshop breaks
• receive 1 ticket to the workshop
• listing on our Facebook Page (we reach more than 31,000 with approximately 10,000 in the DFW area)
• listing in the conference manual (your business name, address, phone, website, and Facebook page)
• listing on our website (link juice, which search engines like for page rank )
I am a social media marketing pro with more than 15 years experience, so your financial support for our workshop includes an experienced pro marketer telling a passionate pet community of consumers about your product or services. I very much appreciate the sponsors and will shout your support from the mountain tops.
Individual contributors will be listed on our website so that everyone can see how this conference is supported by many. You will still need to purchase a workshop ticket if you plan to attend; we know funds are limited for some people, but others have been blessed financially and are able to pay more. This allows those with the ability to pay more to help make this an event that everyone can attend, regardless of financial status. There are probably other ways to do this, but we're a small team organizing the workshop and are working to keep our overhead very low to keep attendance price low. I hope you understand.
You can also help by sharing my request and asking other animal advocates and lovers to help us save lives.
THE RETURN ON YOUR INVESTMENT
I often say, "it takes a village" … and that is true. This is a way we can come together collectively and make an investment in our communities. By each contributing a little, we gain A LOT for the pets! This one time financial contribution will have a tremendous ripple impact … not just in one community, but in each community of all that attend. For every dollar you contribute, you will be impacting communities all across Texas. And it will not be a temporary or one-time impact, your contribution will have long-term impact on our communities as we return home from the workshop armed with knowledge, ignited passion, and a blueprint to make changes that will save lives not only in 2012, but all the years to follow. Finally, we will contribute and lead our communities to become no kill. Even if you do not live in the Texas area, I hope you will support us in our vision to save more lives here by telling others and/or making a financial contributions to help underwrite workshop expenses.
LINKS
Here are the links again: to make an individual contribution, click here for the Chipin link: (update: no longer accepting donations).
And here is the link to sign on to be an Official Sponsor: http://pawsitivelytexas.com/dallas-ft-worth-no-kill-workshop-save-the-date/no-kill-workshop-sponsors
Click here to see details about the DFW No Kill Workshop – it's going to be amazing!
List of our Contributors and Sponsors: http://pawsitivelytexas.com/dallas-ft-worth-no-kill-workshop-save-the-date/no-kill-workshop-contributors-sponsors
And lastly, this is me. I'm more of a behind-the-scenes person and don't like to draw attention to myself – because it's about the pets in need, but since most of you only know me as "Pawsitively Texas", "Paws", "PawsTexas" or "Alva" I thought you might like to see the girl behind Pawsitively Texas. Dave calls me a Dreamer. I do believe in dreaming big and hope that you do too. Dreams followed by action can lead to life-saving accomplishments. Join me! And together, we'll help revolutionize our communities to becoming no kill because the pets deserve it so. I just need your help to make the workshop affordable for all that wish to attend. Please Give! Share! And make plans to attend the March 10, 2012 DFW No Kill Workshop! Thank you!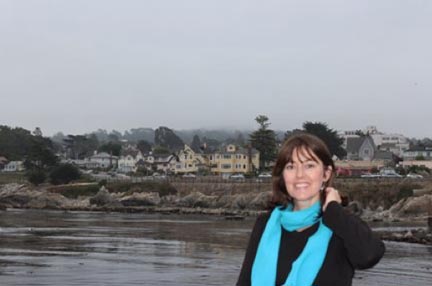 And this is my Rescue Family …
Subscribe Now: Be sure and subscribe to follow the Pack and never miss an informative Pawsitively Texas blog post! Add your email address, then click the Subscribe Now link. Look for the yellow/orange icon in the upper right column. No worries, we'll never spam you, you'll only receive an email notifying you of new blog posts on Pawsitively Texas.