23 September 2013
On Sunday, we welcomed the first day of Autumn. I found this cartoon of Snoopy enjoying a dance with a falling leaf and shared on the Pawsitively Texas Facebook page; then Danalee shared the fun video of a dog playing in leaves (below). Don't you just love the way our pets teach us to enjoy the simple things in life?! I mean, when was the last time you dove into a pile of leaves and ran around the yard as fast as you could … just because! Take a moment today and see the world through the eyes of your pet! In our busy lives, sometimes we miss the joyful beauty all around us.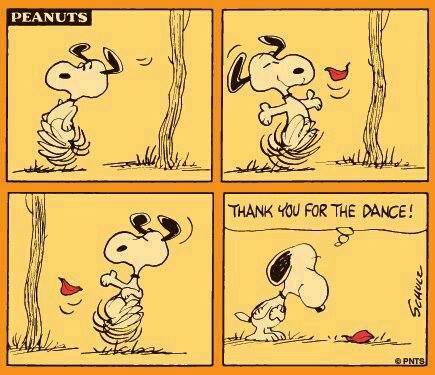 The dog is named Butch and his Dad, Kent Petersen writes "I had just finished raking leaves, when Butch decided to help." I love the laughter coming from behind the camera. Our pets so love to bring us joy! Thanks to Danalee for sharing this video on the Pawsitively Texas Fb page!
Subscribe Now: Be sure and subscribe to join the Pack and never miss an informative Pawsitively Texas blog post! Simply add your email address, then click the Subscribe Now link. Look for the yellow/orange icon in the upper right column. No worries, we'll never spam you, you'll only receive an email notifying you of new blog posts on Pawsitively Texas. Thank you for your support of my work for the pets!