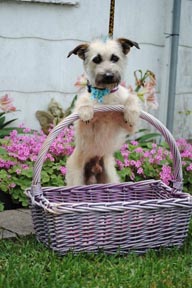 April 21, 2010
For many, a trip to the local animal shelter is unbearable. The kennels full of adorable pets, some dirty, some afraid, all so desperately hopeful someone will take them is simply too much. And they walk away, unable to go back. However, in October 2009, Wendy Lenze accompanied her friend Susan Anderson, a shelter volunteer and dog walker for the past year, to the Pasadena animal shelter – this is how Susan wanted to spend her birthday with her friend, making  a difference for the abandoned dogs in her community. What Wendy found surprised her; " I just couldn't believe how many poodles and mixes were in the shelter, I had no idea.  I then saw people that had come to look at the dogs walking right past the fuzzy dogs that were matted and dirty.  I asked Susan, do you think they would let us groom them?" Wendy said.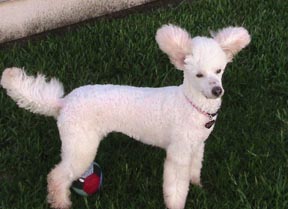 Fortunately, the shelter answer was "Yes!" A poodle owner and lover, Wendy had worked alongside Lucille Brown, a 99 year old dog groomer in her community for the previous five years. She then contacted several other groomers in the area to ask if they would also like to help the shelter animals. Bren Osborn, of Pet Pretties, joined in offering more than 40 years professional grooming experience, her grooming shop, and she also produces the cute videos of the pets' makeovers that are then shared online. So, Susan the retired school teacher and shelter walker, Wendy the car wash owner, and Bren the professional groomer launched the Pasenda Poodle Patch. It was as simple as people seeing a need and rallying friends to help make a difference for the pets in need in their community.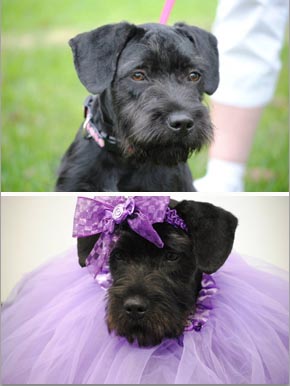 "We started grooming Poodles," Wendy said. "Then we did a little Shih Tzu, then we thought all why not all fuzzy dogs that grew hair. We groom in the Cat Room at the shelter, so who couldn't fall in love with them, so we have added cats to our Facebook page, then we saw the big dogs needed help, so we asked if we could start taking dogs to Petsmart on Saturdays. Then last month we all fell in love with the 13 yr old senior, Lady. She got the works, grooming, video, in our St. Patrick's Day event, and she became our mission to find a wonderful home. Thanks to the Pawsitively Texas Facebook page, and all the sharing, Lady has a wonderful home in Montgomery County.
"That same week that Lady went home, Rexxy was brought to our attention, a 85 pound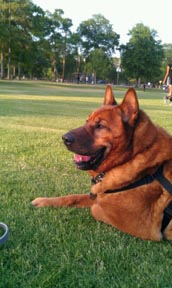 Shepherd/Akita/Chow boy, we were in love again. I posted his picture with the bunny ears on Tuesday. A friend shared his picture and Kristin said "I'm in Love, I want him", Thursday I brushed and bathed him and took more pics and on Friday he moved to Spring. We have groomed a total of 121 dogs since we started if we only count them once. There have been many that we have groomed more than once and several that were groomed 3 or 4 times before they were adopted. We also volunteer for A New Dawn Pet Adoption in Deer Park grooming her fuzzy dogs.
"In November 2010, Cindy Trainor of Pet Care Plus joined the team, followed by Judy Klein and Dulce Garcia, owner of Dulce's Paws and Claws. Gena Davis and Merrilee Payne are the most recent to join. Since Merrilee is a professional photographer, she has taken over the duties of getting wonderful photos that showcases the pets' personalities and helps greatly in increasing pet adoptions.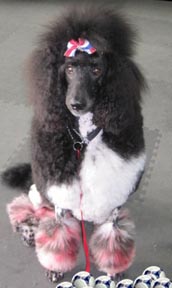 "We need $800.00 to get our 501(3)(c)," Wendy said. "As of today we have $610.00. Since we are not a non-profit we do not ask for money. The money collected has been given to us out of the kindness of peoples' hearts that have just came up and gave it to us. We are also grateful for all the shampoo donations, it really helps us. Darlin Beaux's Dog Bows in Monroe, LA donates the most precious bows for our shelter dogs and also sells 3 designer bows in our name and all proceeds is donated to us.  Divva Pet Fashions donates new collars to all our poodle patch babies."
This is what the volunteers at the Pasadena Poodle Patch have to say about their involvement with the pets the organization helps …
"I do it because my dogs have brought me so much joy over the years, I want the homeless ones to give joy and receive joy from a loving family." ~Bren Osborn
"I volunteer because I just want to help the animals." ~Susan Anderson
"I have been a dog lover for as long as I can remember.  The first time I walked into the shelter, I knew I had to help them.  Their is nothing like the joy you feel when you hear those magical words come over the loud speaker, Please bring kennel 53 to the front, he/she is Going HOME!" ~Wendy Lenze

"These animals are at the shelter by no fault of their own, I want to show them there are humans that care about them." ~ Cindy Trainor

"The rewards of helping the shelter dogs and cats are limitless. There are no words that can express the feeling of helping those beautiful 4 legged souls that are without a family to love and care for them. The greatest gift I can give to them is to be their voice, since they can not talk for themselves. Show them that they are worthy and can be loved." ~Gena Davis
"We are a Team and we all have the same goal to get as many dogs and cats into a loving forever home as we can," Wendy said.
And thankfully, there are people like the ones that comprise the Pasadena Poodle Patch that are making a difference in their community using the talents they have. I'm personally very inspired with groups like this because it shows just how big an impact a small army of volunteers can have in the lives of the animals that need us so much – and how it makes their community a better place by caring for "the least of these." I hope you are inspired by their story too!