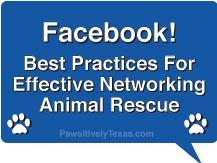 July 21, 2011
Since launching Pawisitvely Texas on Facebook in 2009, I've learned a lot about about posting animals in need of rescue. We are currently capturing more than 5 million post views each month, so it is critically important we communicate clearly and accurately to help the pets that depend on us – and make the most of this reach. The helpful feedback of our community has been tremendous and the support, well, there are no true words of just how fantastic everyone has been at helping save lives by networking through PawsTexas – and beyond!
If you want to learn more about how to create a post that will get the absolute most visibility among animal rescues, fosters, volunteers, networkers, and crossposters, you've come to the right place! I share the following from both experience of networking on a very active Facebook Page and as a former corporate marketing communications executive. Good intentions are great, but knowledge is power. So, post powerfully strong social media posts to help save more paws.
All too often, we see incomplete posts. The city or location will be missing – and without that, we can all share all we like, but that does little to help the pet in need if there is no way to save him/her! The more information the better, especially if you're networking a shelter pet! Here's why. If a post gets networked and stirs interest, but has little information about the pet, if people are truly interested, they'll have to call the shelter. Most shelters are not staffed to handle 10 calls/pet and certainly not 100 or more. And that has happened – and in a few cases, the shelter has decided they are not staffed to handle calls, so they say "no more posting our pets online." That of course, is a tragedy we must work to avoid!!!
Networkers on the Pawsitively Texas Facebook page have told me they do not pass along incomplete posts. There are some that have said they do not reshare posts that appear to be overly dramatic such as URGENT WILL DIE TODAY MUST SAVE IMMEDIATELY AND THE ENTIRE POSTS IS NOTHING BUT ALL CAPITAL LETTERS AND LOTS AND LOTS OF EXCLAMATION POINTS BECAUSE YOU REALLY MUST UNDERSTAND THAT I NEED YOUR ATTENTION NOW!!!!!!!!!!!!!!!
Of course the situation is dire and urgent! No question about that. It's just tempering the emotions of the post so that they work for the pet getting reshared, not against. And, that may be a small number of people, but we need everyone we can get to help us network the pets. Since that is a complaint I receive with some frequency, I believe everyone should know that.
To find the balance of communicating urgency and reaching as many eyes as possible, use ALL CAPS and EXCLAMATION POINTS!!! judiciously. Since we have no text formatting options on our Facebook posts, I try to use the ALL CAP words to help people who scan-read posts; for example, I may publish a post where I use all caps for URGENT, LOCATION, and CONTACT. Sometimes I use ALL CAPS as the lead-in to a post, similar to a billboard headline. Then continue the post in normal upper/lowercase letters.
The following items are what should be included in every post; include as much info as possible (not all will be known, but if location and contact are missing, please take a moment to research that before posting so that you can include the absolute most key points for helping a pet). This is especially true if you maintain a Page and present Urgent Kill List Albums – this info should be on each pet photo as well as the Album description.Think of it this way; we all post a little differently. Some will reshare the album, some will reshare one photo; assure that no matter what one shares, the key information is shared. While some may say "that's overkill, we have that info on our Page" remember, there are still some folks that will admit "I'm not very computer savvy" or "I really don't know Facebook that well yet."  The extra time you take to get this comprehensive information posted, the better odds you give the pets when their story goes viral. And that's why we do this, asking people to help us help the pets and save lives. Items to include for each post/photo:
Location (city/state – we have a lot of non-Texan networkers now, so state inclusion helps)
Contact Phone and/or Email
Animal ID#
Animal Name
Breed Type
Male or Female
Approx Age
Approx Weight/Size
Health
Temperament (if tested, and if good with kids, other dogs and cats)
If in shelter, how long the pet has
Adoption Fee
If a shelter, do they allow out-of-town adoptions?
If transport is available
When I have to look up a shelter's contact info and include in a post, it takes my time away from networking other animals; true for everyone that crossposts animals – and sometimes I hesitate because I don't know if I've found the correct shelter or not. Don't make anyone guess. However, unless the people that click reshare copy/paste my text with shelter information, the pet gets passed along with incomplete information, as the reshare feature takes the original post text with photo, not anything I've added in my post. Additionally, as Page Admin, FB limits me to something like 420 characters; it's sometimes hard to fit everything in my post. So please, understand the critical importance of sharing info and why original posts' comprehensive content is so key.
Include a photo! It can not be said often enough, photos sell. But just as importantly, they also give us a RESHARE button on Facebook making it easy to send a pet's story viral throughout Facebook and picked up by Twitter tweets! Without that photo, Facebook does not give us a Reshare button.
And I LOVE photo albums. When I share one pet, I want to share ALL the pets in need at that facility, so I love it when a Shelter or Rescue Page includes photos/bios of all pets in need there. I share one pet, but then I also grab the link to the open album page and share that too.
If you have a Page with albums, it's important to also keep them updated. Some people will stop crossposting if the content is always outdated, and integrity for being a reliable source will be diminished. What is great is to have other albums to move photos from Urgent to, such as "Adopted!" "Rescued!" "Returned to Owner" and "RIP" … people connect emotionally to these precious pets and want to follow the story to the end. The other albums helps. I like to share the Adopted/Saved pet albums because it fuels all of us on that our work is making a difference when we know that some have been saved.
You may also find these additional articles about using Facebook social media to help in animal rescue helpful. We have a powerful resource available to us in social media marketing using sites like Facebook. Let's make the most of them and work to save more animals that depend on us to be their voice.
What do you think makes a great networking post? Have I left anything out for making a great Facebook post? Please share your thoughts in the comment section below.
Networking is a powerful tool we have to save the lives of the precious animals that depend on us so. Please continue to invite friends, family, and colleagues to join us here on Pawsitively Texas! And if you haven't already, add your email address to our subscription box in the upper right column – you'll be notified when new blog posts are published here (that's all, no spam from us!).