November 28, 2011
Remember the story of Dash and Toby? Over the holiday weekend, we met them through a post on the Pawsitively Texas Facebook page and their story, like so many, really touched our collective hearts – and everyone got to work networking them. For some reason, Dash and Toby's owner was moving and could no longer keep this adorable duo. The owner's plan was to have Dash euthanized at the vet, and if a home could not be found for Toby, he planned to return him to the shelter he came from. In the photo below, that's Toby on the left, and Dash on the right. Notice how close they're standing to one another? This is the photo where we first met and fell in love with them.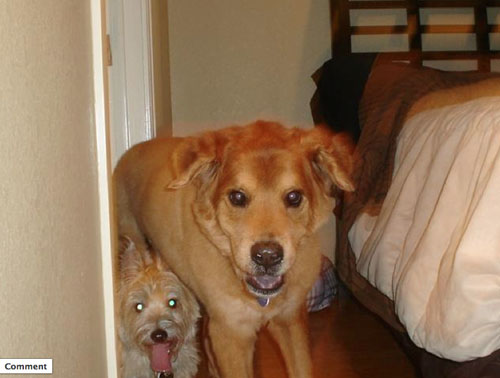 Even though it was a holiday weekend and so many people were traveling and celebrating, a rescue happened as Richardson, Texas based Take Me Home Rescue (TMHPR) saw their story and found room to take them in. So, now, both Dash and Toby are safe! And we learn a little bit more about these two adorable dogs and see just how precious they both are thanks to the TMHPR photos.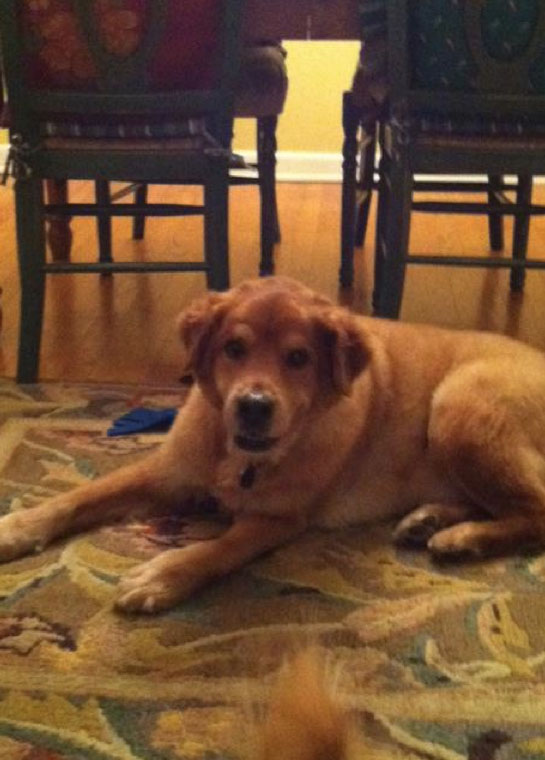 Dash is an eight year old Chow/Golden Retriever mix, which explains his sheer beauty. He is house-trained, great with other dogs, but has a keen interest in cats. And look at Toby, isn't he a little charmer?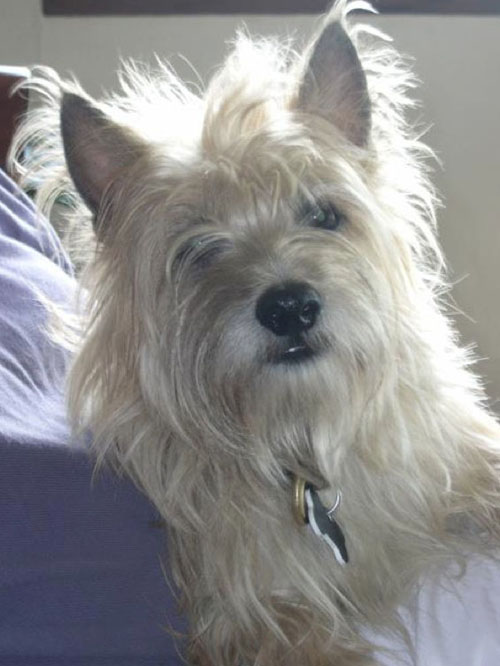 Toby has had many adventures in his short life! He is a 5 yr old Cairn Terrier who spent his first year in a puppy mill. But he adjusted well to 'family life' and became best buds with Dash. Isn't he adorable?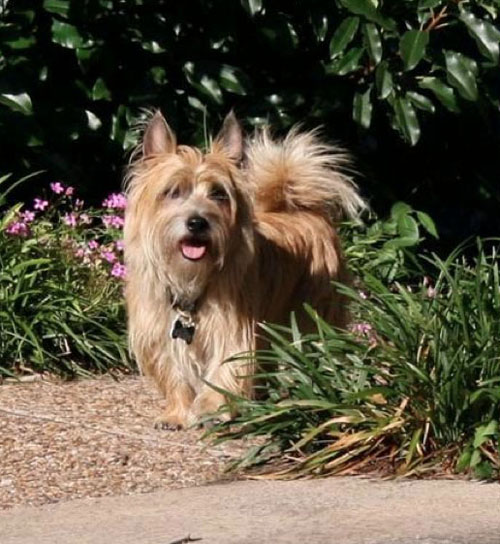 Here is another photo of Dash … he seems so relaxed and oblivious to the networking firestorm his story set off over the weekend. Or perhaps he's just thankful he's one of the very lucky ones that cheated death.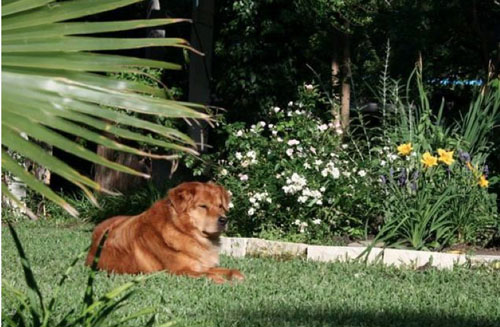 Take Me Home Pet Rescue was able to step in and save Dash and Toby because the all-volunteer group had a Foster Mom ready to take in these two precious ones. Her name is Tracy and they now have a foster sibling named Henry.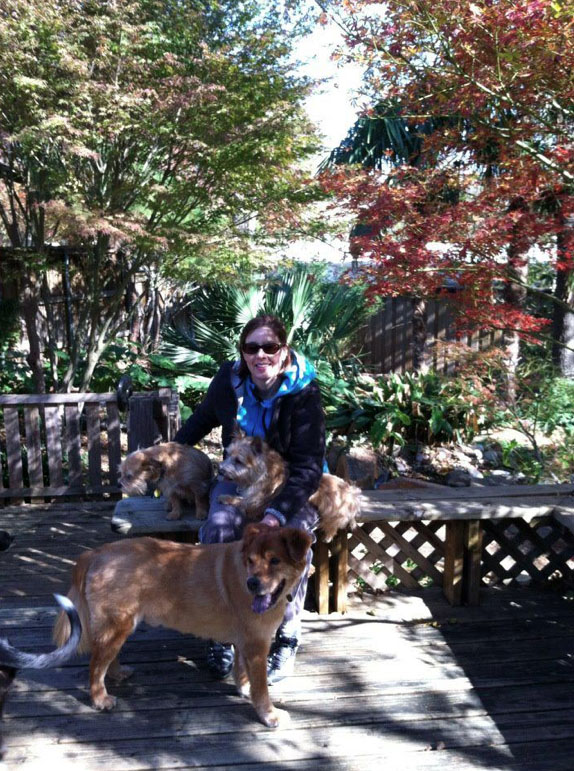 And now … here is a photo of Dash and Toby … after the urgency of their fate, settling in to their new Rescue. Dash seems to have a unwavering smile.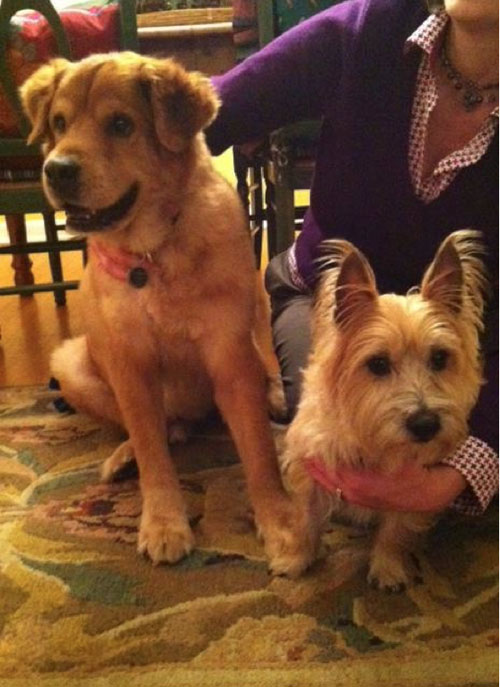 If you would like to make a donation to Take Me Home Pet Rescue, and/or someone you know would like to adopt these two adorable dogs, please contact THMPR at: info@takemehomepetrescue.com Thanks to TMHPR for making this story possible! Photo credit: TMHPR
UPDATE:  Toby and Dash were adopted from a family that drove all the way from Phoenix to the Dallas area to adopt them! It's one big, happy family now!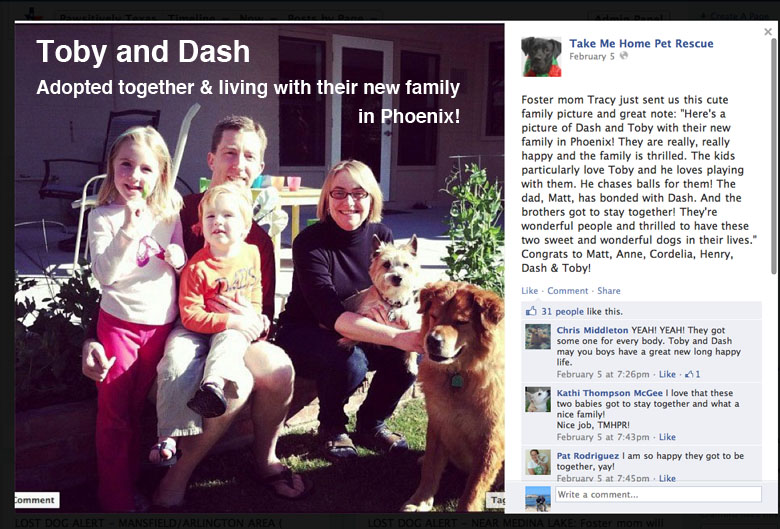 Subscribe Now: Be sure and subscribe to follow the Pack and never miss an informative Pawsitively Texas blog post! Add your email address, then click the Subscribe Now link. Look for the yellow/orange icon in the upper right column. No worries, we'll never spam you, you'll only receive an email notifying you of new blog posts on Pawsitively Texas.