3 December 2013
Good Samaritan Saves Abandoned Dog; Pawsitively Texas Networkers Help Find A Home!
The plea came to Facebook for a little dog that had been found tied to a tree at an abandoned house and I shared the adorable, little one on the Pawsitively Texas Facebook page on November 25.
Barbara wrote "There were a couple potential adopters and a possible rescue group for him, but nothing has come through. Please share this little dog in need of a new home. I did, and he grabbed the heart of everyone who saw his photo and story! With 1,287 shares, 730 likes and 116 comments, he received 35,520 post views! Scroll down below to see the original post photo at the end of this blog post!
His story continued, as told by Barbara "This little Jack Russell Terrier mix was left chained to a tree at a vacant home. Although he was wearing a blue collar, there were no tags or id and he's not microchipped. We've contacted the shelter but he's also in poor condition and appears to have not been well cared for, so possibly abandoned rather than lost.
"A Good Samaritan took him in but is unable to keep him. He's an un-neutered male, appears to be a year old or less, has a full tail rather than docked tail, and his ears have what appear to be bites (maybe from fire ants?). He responded well to the obligatory bath, gets along with the family, curious with their cat (who quickly put him in his place), gets along with their small breed dogs, is housetrained although has attempted to "mark" in the home but responded to a verbal correction. Neutering should help with that! He settles down when crated, is playful with the other dogs, and sleeps with the family in the bed, alongside the other pets.
"He was taken to a vet to be checked for a microchip (none) and was fearful of the staff, although he's been friendly with everyone in the home where he is staying.
"So, let's get together and see what we can do to help this little guy. He'd most likely not do well at a shelter if he's fearful in a vet office, and we don't want this fear to be a death sentence if he can be a friendly housedog. Have you got room for a new dog?
"If you would like more information on this little guy, please call Ann at (contact info deleted for purpose of this blog post). If you can't take him in, please share and help find him a new home. Thank you!"
And I closed with "Thanks for giving this dear dog needed exposure!" He is such a precious little one!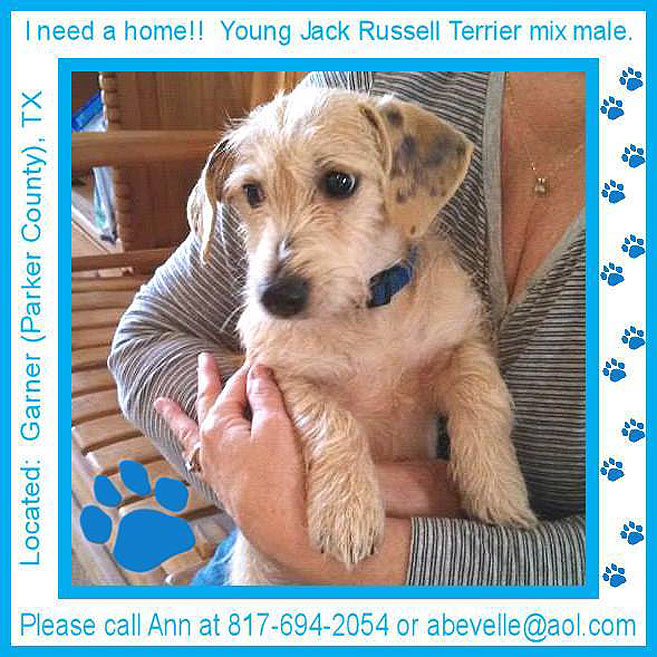 And in less than 24 hours, I received a beautiful update! Andy Russell wrote to Pawsitively Texas"He's home now and has taken over the couch. His name is Jeff and wants to say thanks for everyone who shared his pic. He now has it made!"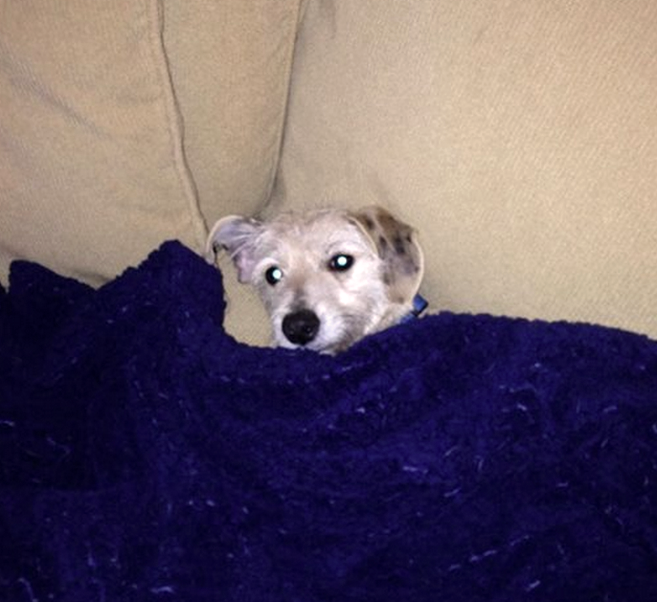 THANK YOU to everyone who joins me in making beautiful pet adoption stories possible on the Pawsitively Texas Facebook page!
If you have a story of animal rescue or adoption to share, please click here to message me via the story submission form
Subscribe Now: Be sure and subscribe to join the Pack and never miss an informative Pawsitively Texas blog post! Simply add your email address, then click the Subscribe Now link. Look for the yellow/orange icon in the upper right column. No worries, we'll never spam you, you'll only receive an email notifying you of new blog posts on Pawsitively Texas. Thank you for your support of my work for the pets!