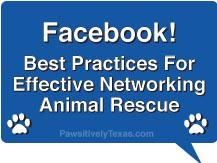 July 21, 2011
Do you network shelter and/or rescue pets in need on Facebook? If so, do you use a Profile or Page? Did you know if you use a Profile for anything other than your personal social network page, you could be at risk for being deleted? I know a lot of people use their profile, "John Doe," to network and crosspost; that is okay and in accordance with Facebook terms. But, if John Doe has a profile he calls "Urgents in My City," as example, that profile can be deleted for terms' violation. This is important to know because I've seen Facebook delete profiles suddenly for terms violation. So, if you've worked hard to grow your network to 500 or even 5,000, you lost all that work in an instant. And no one wants to see that happen!
I know the terms can be a little confusing. Think of it this way. A Profile is for an individual person. A Page is for a Business, Organization, Personality, Brand, Place, etc.. A Page provides important insights to what is happening on your Page and information about the demographics (city, state, most popular posts, etc.); you can see examples here.
Fortunately, Facebook has recently realized that a lot of people made this error.  They now have a way you can convert your Profile page to a Page. Click this link to convert your Profile to a Page; obviously you'll need to be signed into Facebook. Here, Facebook is very intuitive and will give you options to convert your profile. The good news is, Facebook will automatically transfer your profile photo and entire friends' list (they will move from friend status to Like status – meaning, they will now be subscribers who've LIKED your Page).
However, – and this is very important – all content posted, including photos and albums will NOT make the transition. Facebook recommends you save your data BEFORE making the migration. Since there is no 'do over' option, and if you'll need access to this information/data/photos for your new Page, it's best to download so you have it! To download your Facebook data, go to the upper right corner of your Facebook page, where you see ACCOUNT. Click that, then select Account Settings (this is an important page to assure you have your Privacy Settings, Username, etc. set up just as you wish!). Near the bottom of the Account Settings page, look for Download Your Information. Click Learn More and you'll be taken to a page that looks like this: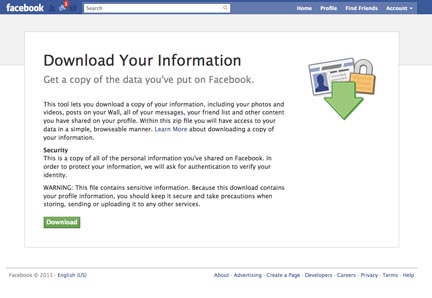 Click the green Download button. As you can see, Facebook has a Security caution and they will require you to authenticate your  identity. Also note the Warning to be careful about who you share this data with and to store it in a secure location, like you do with your other personal identity info/passwords, etc.
Once downloaded, you are now ready to migrate your Profile to a Facebook Page! You may also find these additional articles about using Facebook social media to help in animal rescue helpful.
Networking is a powerful tool we have to save the lives of the precious animals that depend on us so. Please continue to invite friends, family, and colleagues to join us here on Pawsitively Texas! And if you haven't already, add your email address to our subscription box in the upper right column – you'll be notified when new blog posts are published here (that's all, no spam from us!).