11 November 2013
In 2011, I was blessed to share a group called PV2, a non-profit training rescue dogs to help service men and women dealing with Post Traumatic Stress Disorder. This year, I'm excited to tell you about Hounds Helping Heroes Heal (H4), a Texas organization with a similar mission!
Texas Organization Trains Rescue Dogs to Help American Heroes Heal
Co-founded by Susan Herbert and Mark German of America's Canine Academy (ACA), H4 is based in Mansfield, Texas. The noble mission of H4 is to create a healthier future for U.S. Military Veterans who suffer from Post Traumatic Stress Disorder (PTSD) and/or Traumatic Brain Injury (TBI) by pairing them with an Emotional Support Animal (ESA) or PTSD Service Dog that has been rescued from  a shelter. A true win-win-win for our veterans, shelter dogs, and communities!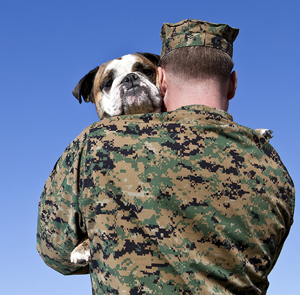 An animal lover, Susan Herbert was in the midst of a career change when she met Mark German of America's Canine Academy (ACA). Mark served America for 18 years in the Navy. His service to our country continues as he trains rescue dogs to help our returning veterans heal! He is not only an expert dog trainer, he also understands first-hand the challenges veterans face when they return home upon completion of their service. Together, Susan and Mark founded Hounds Helping Heroes Heal.
Shelter dogs often have also experienced the trauma of losing their family, being abandoned, left on the streets to fend for themselves, or another traumatic horror. Many Texas shelters have a high kill rate, so being chosen for this program not only saves their life, but gives them a noble mission to help a veteran heal.
When rescued for this program, the dogs are spayed or neutered, and brought up-to-date on their vaccinations. Then they go through the rehabilitation and behavior modification program developed by Mark. This mission of this program is, upon graduation, the dog will be healthy, calm, and well-behaved … the perfect companion for their American Hero. And is often the case with adopted rescues, the bond can be very deep with their new Hero pet parent!
The following information and statistics are from the Hounds Helping Heroes Heal Facebook page.
Veteran Statistics
There are over 2.3 million American veterans of the Iraq and Afghanistan wars, 1.2 million veterans fought in the Gulf War, and 2.6 million veterans who fought in Vietnam.
11-20% Operation Iraqi Freedom & Operation Enduring Freedom Veterans have PTSD.
10% of Desert Storm Veterans have PTSD.
30% of Vietnam Veterans have PTSD.
50% of those with PTSD do not seek treatment.
Out of the 50% that seek treatment, only 50% of them get "minimally adequate" treatment.
Recent statistical studies show that rates of veteran suicide are much higher than previously thought.
More active duty personnel died by their own hand than from combat in 2012.
Studies have also shown that 82% of patients with PTSD had a decrease in symptoms after being paired with a service dog. 40% of the patients also had a decreased need for prescribed medications.
Post Traumatic Stress Disorder Services (PTSD) Dogs Can:
help adjust serotonin levels
help lower blood pressure
help with episodes of depression
provide companionship
calm their handler during an anxiety attack
provide non-violent protection by creating a shield (block or cover)
search a room for the presence of humans
team walks twice a day to stimulate endorphin production
provide an alternate focus to decrease sensory overload
provide therapeutic distraction to regulate emotions
facilitate interpersonal interaction to reduce social withdrawal
accompanies handler outside the home to reduce reclusiveness
provide reality check to identify whether things are real or a hallucination
prevent impulsive and destructive behaviors.
Emotional Support Animals (ESA) / Companion Dog: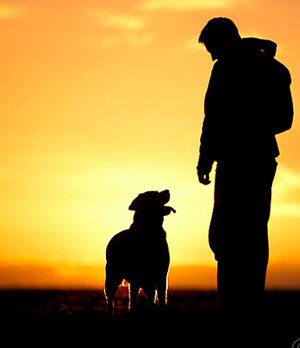 Because a psychiatric disability is not physically visible, people with psychiatric service dogs often face issues that other service dog handlers do not experience. Additionally, the psychiatric service dog handler can be hesitant to explain their condition because of the social stigma of having a psychiatric condition. An Emotional Support Animal (ESA) is a great alternative to a psychiatric service dog. Whereas a psychiatric service dog is trained to assist their handler with a psychiatric disability; an ESA may or may not have specific training related to the handler's disability, but an ESA does provide unconditional love, companionship and emotional support. They do not qualify as service animals in the United States; however, ESA's do qualify for several exceptions in housing and air travel.
Links for Hounds Helping Heroes Heal:
Hounds Helping Heroes Heal website
Hounds Helping Heroes Heal on Facebook
[photos © Hounds Helping Heroes Heal]
Subscribe Now: Be sure and subscribe to join the Pack and never miss an informative Pawsitively Texas blog post! Simply add your email address, then click the Subscribe Now link. Look for the yellow/orange icon in the upper right column. No worries, we'll never spam you, you'll only receive an email notifying you of new blog posts on Pawsitively Texas. Thank you for your support of my work for the pets!