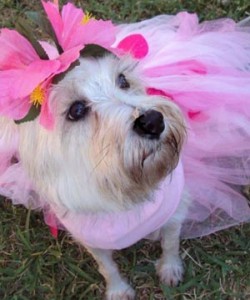 October 11, 2011
Let's have a virtual Fall / Halloween Pawty to celebrate our pets! Share your favorite "Fall/Halloween" pet photos by posting on the network at: http://pawsitivelytexas.net Our virtual pawty will be the last full week of October and I'll share fun information and your photos. In order for photos to be considered for the Fall Pawty, they will need to have a Fall and/or Halloween theme … costumes, pumpkins, fall leaves, etc. You can always share your photos on our site, it's just for the Pawty, the photos need to have a Fall/Halloween theme.
To submit your photo for consideration, please post on the Pawsitively Texas social media network at: http://pawsitivelytexas.net(please note: I can only use the photos posted on http://pawsitivelytexas.net (not Facebook); this site allows me to keep the photos organized for production. But I will also share on our Facebook.com/PawsTexas page for the Pawty!). Submission of photos gives your permission for the photo to be used in our Fall Pawty celebration.
Here is how to submit photo(s) of your pets:
Step 1: Go to http://pawsitivelytexas.net
Step 2: Sign in (if not already a member, you will need to first sign up – it's very quick!)
Step 3. On the bluish horizontal menu bar under the page header, select GALLERY
Step 4: Then Select PHOTOS
Step 5: Then click +ADD (center section of page, top right)
Step 6: Upload photo(s) from mobile phone, your computer, or by email (instructions on this page)
Step 7: For Title Write: Fall Pawty (and list your dog's name, for example, mine would read "Fall Pawty Mckenzie"
Step 8: In the Description area, tell us about your dog, if adopted from a shelter, rescue, etc.
Step 9: In the Location section add your city/state
Step 10: Click SAVE (blue/green colored button)
The photos do not have to be professional photos, but we may not be able to use blurry or dark photos.
Deadline to submit your black dog photo is Wednesday, October 19, 2011.
You can also post other photos of your pets if you like! I love to see them and share them on our Facebook page throughout the year!