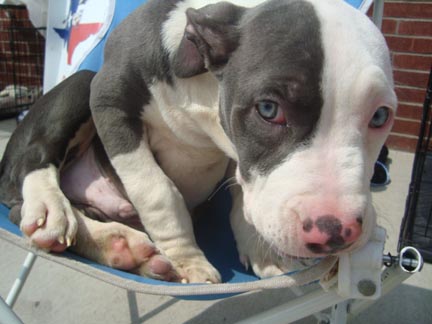 April 15, 2011
Lynda Stapel with the rescue Texas Little Cuties shares this horrific story of the abuse and abandonment Brady suffered before he was fortunate enough to come into their care. They could use some financial help with his medical care and if you'd like to help, please donate to the vet listed below).
From the hands of cruelty, to the arms of love; this is Brady's story…
"On Saturday, Texas Little Cuties Rescue took in a male 3 1/2 month old puppy that someone tried to cruelly kill. He was found in a dumpster in Dallas with his eyes, nose, ears and mouth duct tapped shut and with a broken shin. He was found when a resident of the nearby complex went to take out her trash and heard him moving around. She pulled him out of the dumpster before he could suffocate to death from the heat and the inability to pant to cool himself. Luckily, whomever did this to him, did it later in the day as the trash company had emptied the dumpster earlier in the day (which would have crushed him). As the duct tape was taken off, his eyes had been open underneath. He is now in a foster home and has been named Brady.
Brady needs surgery to repair his broken shin and Texas Little Cuties needs to raise the estimated $1500-$2000 to pay for his surgery and care.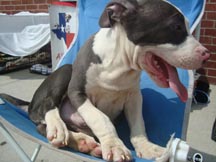 Texas Little Cuties is a 501C3 Non-Profit rescue and any person wishing to donate can receive a donation receipt to use as a tax write off. Texas Little Cuties will post a "chip-in" on Facebook to raise money for Brady. Dr. Shelton with 380 West Animal Hospital is also accepting donations for Brady's care. Please consider donating to help this poor baby boy get the surgery that he needs and show him that there are humans that are kind and not cruel. Please also forward Brady's story to anyone you know who might be able to help him, the more people we can reach the better chance we have of raising funds for him. I have listed all donation information below: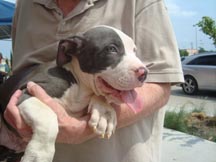 380 West Animal Hospital
214-544-7881
Please designate your donation for Brady with Texas Little Cuties
Editor's Note: We just have to cheer the triumphant and resilient personality of these precious ones that have suffered such a horrific abuse. You're in good hands now, Brady, a happy, safe, and loving future awaits you!