October 5, 2011
WAGGIN' TAIL! Karen posted this found dog yesterday and I shared to the newsfeed because our community is so great about networking lost and found pets! I also did a google search for "lost dog south austin craigslist" – and BOOM! I found a post that seemed to match this cute boy. Karen followed up and … Rupert is going HOME!
Karen writes: "He's going home! thanks to Pawsitively Texas and Craigslist! He was staying at his grandmother's here in Austin while his parents moved into a new home and got out with another dog, a pittie…the pittie dug out, no sign of him so far, but Rupert is going home with his mom and dad this weekend!! Grandma is on her way to pick him up!" ♥ ♥ ♥ !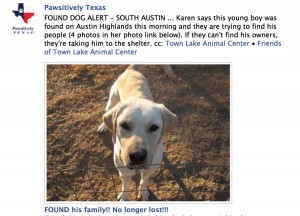 Subscribe Now: Be sure and subscribe to follow the Pack and never miss an informative Pawsitively Texas blog post! Add your email address, then click the Subscribe Now link. Look for the yellow/orange icon in the upper right column. No worries, we'll never spam you, you'll only receive an email notifying you of new blog posts on Pawsitively Texas.