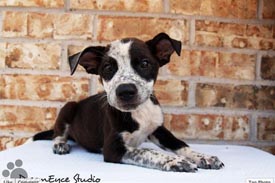 September 12, 2011
Liza Hitt shared this story earlier on our WOOF! page … a post of three puppies out of time at a kill shelter on the Pawsitively Texas Facebook page led to the long distance rescue of these precious ones. Once they got to foster, they discovered they had parvo … but the rescue fought with them to beat it. Tonight, Liza shared this video of the three puppies playing. Puppies that beat the urgent kill list, made a long road trip to rescue, fought parvo … and now are simply enjoying life as puppies.
This story is even more powerful. It starts with someone, Emily Rose Godlevsky, a local volunteer that takes photos of pets at her animal shelter and posts online, in hopes the good photos will help a pet be adopted or rescued. It's great to see professional photograhers volunteer their time to help the paws; this is Emily's photo blog. Because of Emily's volunteer efforts with her local shelter, these three young pups got their chance at life. They beat the overwhelming odds stacked against shelter animals – even puppies! And with the power of the Pawsitively Texas networking community, a rescue hundreds of miles away was able to save them. Godlevsky even made the long distance road trip to transport the pups to the Texas coast! Rescues, volunteers, and networkers are truly lifesavers! And as we often see, it really is the 'village' working together that is improving the save rate for Texas pets!
"I'm thankful my photography got these babies seen and that my family had the weekend free to take a roadtrip," said Godlevsky.
What a great story! The pups have been named BoBo, Roberta, and Dakota. Happy new life little ones!
You can see more photos of the rescued puppies here. If interested in adopting one of these cuties, contact For the Love of Strays by clicking here.
Related posts: