April 12, 2012
Increasing Animal Shelter Live Outcome / Save Rates!
In Texas, state law requires municipal animal shelters to hold strays for at least 72 hours – after that, they can be killed immediately. Sometimes beloved family pets are killed before their owners find them making this procedure even more heartbreakingly devastating! However, there is a very easy remedy to help save more shelter pets starting today and at no additional cost to the shelter.
To help reunite lost pets with their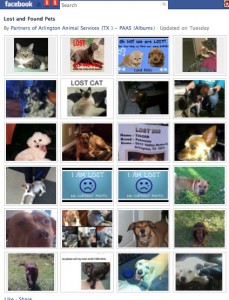 owners and to move animals safely out of the shelter more quickly – freeing up kennel space for other animals in need, shelters should have a Lost/Found or Stray Animal category listing on their shelter website, pet search sites, social media, and email lists. The shelter will implement a volunteer or volunteer team program where volunteer(s) will daily check lost pet sites like Craigslist and Facebook Pages and notify local vets and pet stores that they have an online listing of pets on stray hold. Click here for a list of lost/found pet websites volunteers can use in their redemption search.
Miranda Reynolds Fick, a CCAS volunteer, shares their plan of action for pet redemption: "We've had a lot of good work done by our Owner Redemption Team and "Pet Detectives" at Collin County Animal Services! A lot of times it may not be reuniting the pets in the shelter, but we see more where we are preventing the animals from ever coming in! We comb everywhere on the web for online listings, take pictures of all the lost/found flyers around town, utilize community websites, and last but the most important we make use of the 100′s and 100′s of lost/found reports submitted to the shelter! We have a team that communicates hourly and have reunited many families with their pets!"
From photographing the animal on intake and getting the posts updated online, to networking the updated stray lists via social media and email, the volunteer team can be one of the shelter's greatest assets in reducing the kill rate by helping pets reunite with their families more quickly. Does your taxpayer-funded municipal shelter have a stray pet redemption program? If not, why not? Are you willing to share this with others in your community and work with your shelter to implement a stray animal redemption program in your community?
I know we have a lot of readers that do not live in Texas, but this is a simple program that can be implemented in your community too! Let's save more lives!
Subscribe Now: Be sure and subscribe to follow the Pack and never miss an informative Pawsitively Texas blog post! Add your email address, then click the Subscribe Now link. Look for the yellow/orange icon in the upper right column. No worries, we'll never spam you, you'll only receive an email notifying you of new blog posts on Pawsitively Texas.
Related posts: