Things tend to move quite fast on Facebook, so I thought it would be helpful to include a list of things you may have missed this week! The underlined text below are links to the story; some will open in a new browser window.
Tracking Pet Abuse Offenders – what and why you should know.
Scammers try to cash in on Patrick the Miracle Dog – and the compassionate people that love him.
Love is in the air – a spay/neuter message for you to share!
Norah the stray dog and her nine pups – a very moving story of a stray dog and the people who would not give up on her!
Late one evening this week, we posted Reuben's story and by the next morning, he had been adopted! Networking saves lives!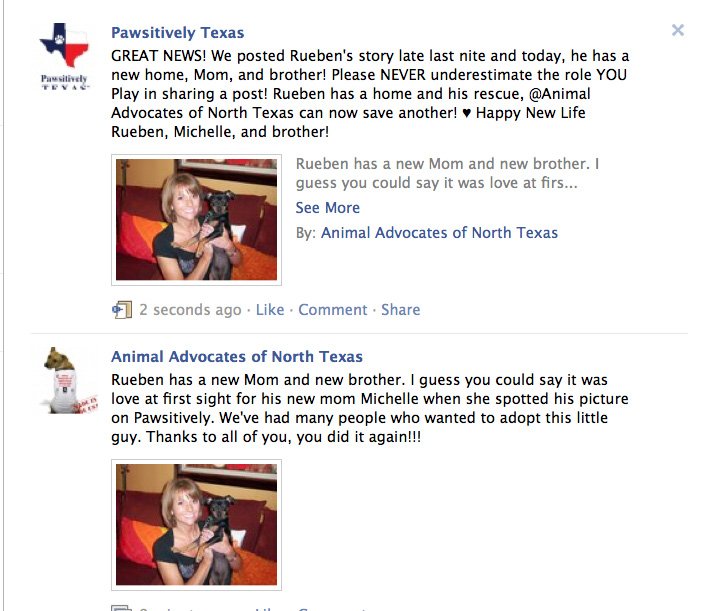 Big Boy, a sweet Husky was networked and adopted by a Rancher; he now has six acres to call home, and a new Dad that understands he needs patient as he adjusts to his new family!
Shannon took a moment to encourage all of us who network on Facebook/PawsTexas!


Sadly, we learned Tuesday that Rusty passed away. An older little fella, Rusty first captured our hearts with his story of rescue need at TLAC and networkers got to work. A Dallas based rescue saved him, and transporters got him to Dallas. And we celebrated that one more made it! He died a few days later of a heart attack, in the arms of his foster mom.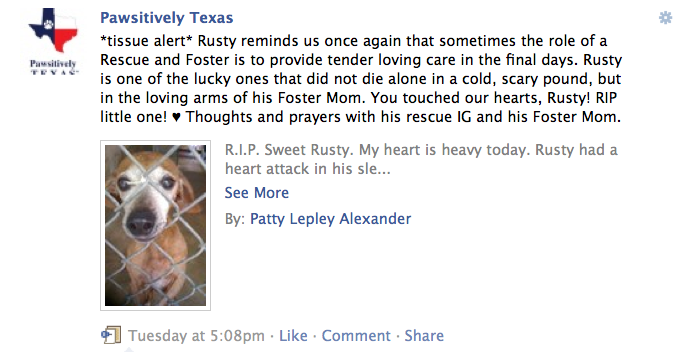 We learned Tuesday evening that all the dogs and cats on the kill list had been saved! ACO Joe posted this great update!

Please let me know what you think about snapshot updates like this!