25 April 2014
In 2011, my friend Rekka who was a volunteer with a local rescue shared this video she'd made of Norah's rescue. Rekka, JP, and Pat had been trying to save this dear dog from life on the streets for months. They often held their breath with knots in their stomachs as they watched her dodge traffic. But they were dedicated to saving this beautiful, black dog.
This is Norah's story … told in a visually compelling video
Tissue Alert – but it's the good kind of happy tears.
Rekka also shared Norah's story here: Norah the stray dog and her nine pups
And I shared an update a few weeks later when the puppies were older: An update on Norah and her puppies This video of the pups is pure, compelling bliss!

But then Norah faced another battle; had she been still on the streets, it would have been a death sentence. But because she was in a loving foster home with rescue support, she had a 90% chance of survival.
But it's 2014, what happened to Norah and her puppies?
The puppies? They were fostered until old enough to be adopted; then Take Me Home Pet Rescue vetted them and placed them in loving, adoptive homes. Because so many people had been following the story of Norah and her puppies on social media and Pawsitively Texas, they were adopted quickly.
And Norah, well this dear girl captured Rekka's heart and she adopted her! Now, Norah knows what love and security are. She is happy, healthy, and has a wonderful home where she  serves as a rescue ambassador helping new rescue fosters feel secure and right at home as you can see in this photo!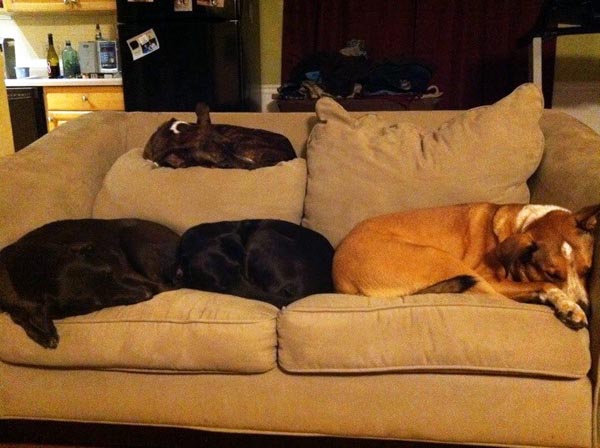 And Rekka? She went on to be a co-founder of the awesome, Duck Team 6, a street dog rescue team that is saving the lives of so many animals in Dallas! If you are in North Texas and want to be a part of a team that makes stories like Norah's possible, please join them as a foster, volunteer, social media networker, and/or donor!
Visual Story Telling Tips for Animal Rescue & Adoption!
• You don't have to be a pro to produce a compelling visual story
• Rekka used a combination of video and photos taken with her mobile phone along with photos a local pro photographer took
• The pups were given names that matched their looks and personality!
• She used One True Media to produce the stories
• She added descriptive words along with photos to tell the story
• She chose a song that emotionally connects the audience to the visual message
• She included a 'call to action' which includes how to contact the rescue
• She shared hosted the video on the free site, Youtube
• She shared the video with Pawsitively Texas and social media
• The great story was shared and shared resulting in funds being raised to care for and vet this precious family of once abandoned dogs, as well as finding them homes when they were ready!
• Mission accomplished – all dogs were safe, healthy, and found loving homes!
BONUS SAVE – The ripple effect!
In December 2013, I received a comment on Norah's 201 blog post. A nice guy named Larry had been trying to save a street dog and her puppies. He found me because of Norah's story. Larry didn't want this mom and her babies to go to a shelter, but couldn't find anyone to help. I helped him make contact with Rekka and Duck Team 6; they were able to save the street dog and her six puppies. Since this little family had been living behind a Shell station, they affectionally nicknamed mama dog, MaShell, but her official name was Destiny. Every dog deserves a name and love. Larry loved this former stray dog and wanted to adopt her. Tragically, it was discovered that she was sick; Rekka explained she had "intussuscpetion, which means her intestine folded in on itself causing a blockage. Her situation is serious, but we all agreed MaShell deserved a chance to live a happy life. She had surgery late yesterday and spent the night at ER for overnight monitoring and care and will be hospitalized all weekend."
Tragically, MaShell's life was cut short as the medical team was unable to save her. But amidst the sadness, is the beauty of this story, not only did Destiny finally know love in her last days, she had stayed alive long enough for her puppies to be saved by Larry and the dedicated Duck Team 6 team who helped them find loving homes.
I am so thankful for the Rekkas JPs, Pats, Take Me Home Pet Rescues, Larrys, and Duck Team 6s of the world. You truly do make this a better world for all of us. And on behalf of the many animals you have saved – and inspire others to save – THANK YOU!
The Homeless Pet Project
Coming Soon! The Homeless Pet Project is a resource website that features videos with expert no kill leaders and strategies to implement in building a no kill shelter and community. Please check it out and share this link; if you register, you'll receive an email (never spam) when the site launches: http://HomelessPetProject.com
If you have a story of animal rescue or adoption to share, please click here to message me via the story submission form
Subscribe Now: Be sure and subscribe to join the Pack and never miss an informative Pawsitively Texas blog post! Simply add your email address, then click the Subscribe Now link. Look for the yellow/orange icon in the upper right column. No worries, we'll never spam you, you'll only receive an email notifying you of new blog posts on Pawsitively Texas. Thank you for your support of my work for the pets!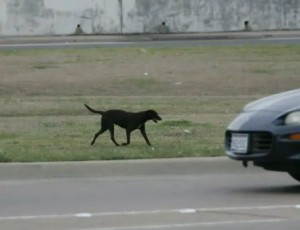 #animalrescue
#visualstorytelling
#dogrescue