24 January 2014
Exhausting All Resources to Return a Pet Home
One of the worst nightmares a pet owner can ever experience is for their pet to go missing. All too often, I see well-meaning people posting that they have found a stray pet and are looking for a good home. My heart sinks every single time. What if ….?! What if they have a loving owner frantically searching for them? What if someone found the pet, but didn't know to check for microchip with owner information? What if a pet went missing the one time he/she was not wearing their collar with ID tags? What if the pet has been lost for several days and mistakenly looks like they have been abandoned for months with a dirty, matted coat? Not all found dogs are homeless.
I've heard wild stories … people are traveling and come across a stray, afraid to leave behind, so they carry the pet home, miles and zip codes away – where a family would never know how to find their beloved pet.
Meanwhile, a family is heartbroken and wracked with grief, never knowing if their pet is alive, hungry, injured and unable to come home, or worse. And the loss, grief, the wonder, never goes away.
Because of the many lost pet stories I have seen in the years since founding Pawsitively Texas, I can't tell you how happy I was to see Vaughn Bradley's update about the little dog he found. It is my hope that every lost pet will have someone work so diligently to try and find their home, before finding a loving home. It's important to exhaust all resources before finding a good home. And just in a note; in Texas, a stray pet only has a guaranteed 72 hours to be found by their people, then they can be adopted, rescued, or killed. Time is critical when searching for a lost pet and when a Finder can keep the pet safe, and use resources to actively locate the owners, including notifying the local shelter, a pet has a greater chance of being returned to the owner. Here is Vaughn's story …
"This is Morgan (the white schnauzer in the middle). You might remember that I found her running down my busy, dangerous road right before Christmas. I did everything I could think of to find her family (drove to every house within 2 miles, had the vet read her chip only to find out the number was disconnected, posted on Craigslist, called the local shelter to see if she was reported missing, called all the grooming places to see if they recognized her, and a deputy sheriff even volunteered to check to see if he could find the name of the people she was registered to on the chip), all with no luck. I couldn't keep her and I didn't want to take her to the local shelter (which is not a no kill), so I posted her here on Pawsitively Texas A very sweet lady, who has 2 schnauzers of her own, volunteered to foster her. We kept looking though, even having a friend go to the old address in Lockhart that she was registered to. But still no luck.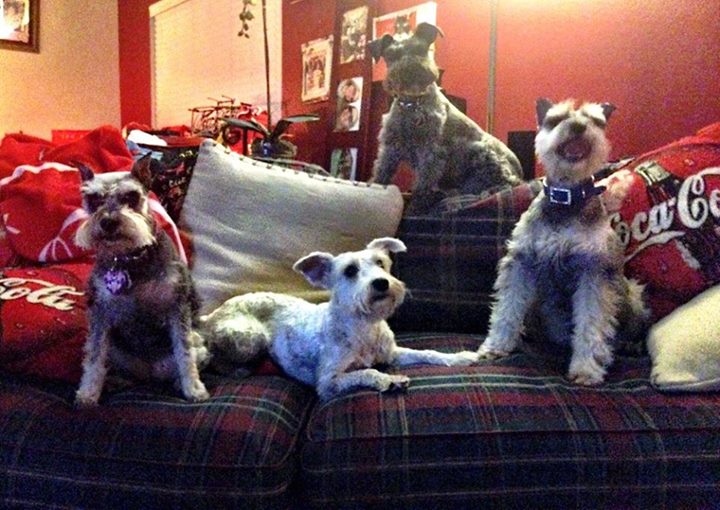 "But, as God would have it, the very nice lady fell in love with little Morgan and has decided to adopt her. Now Morgan is a part of a loving family with a brother, sister, and cousin (Oskar), and a wonderful loving mom. I wanted you all to see this happy ending and to thank you for every share you do, and every prayer you pray, because they work! Thank you for all you do and thank you, Alva, for this page. You've all saved many lives!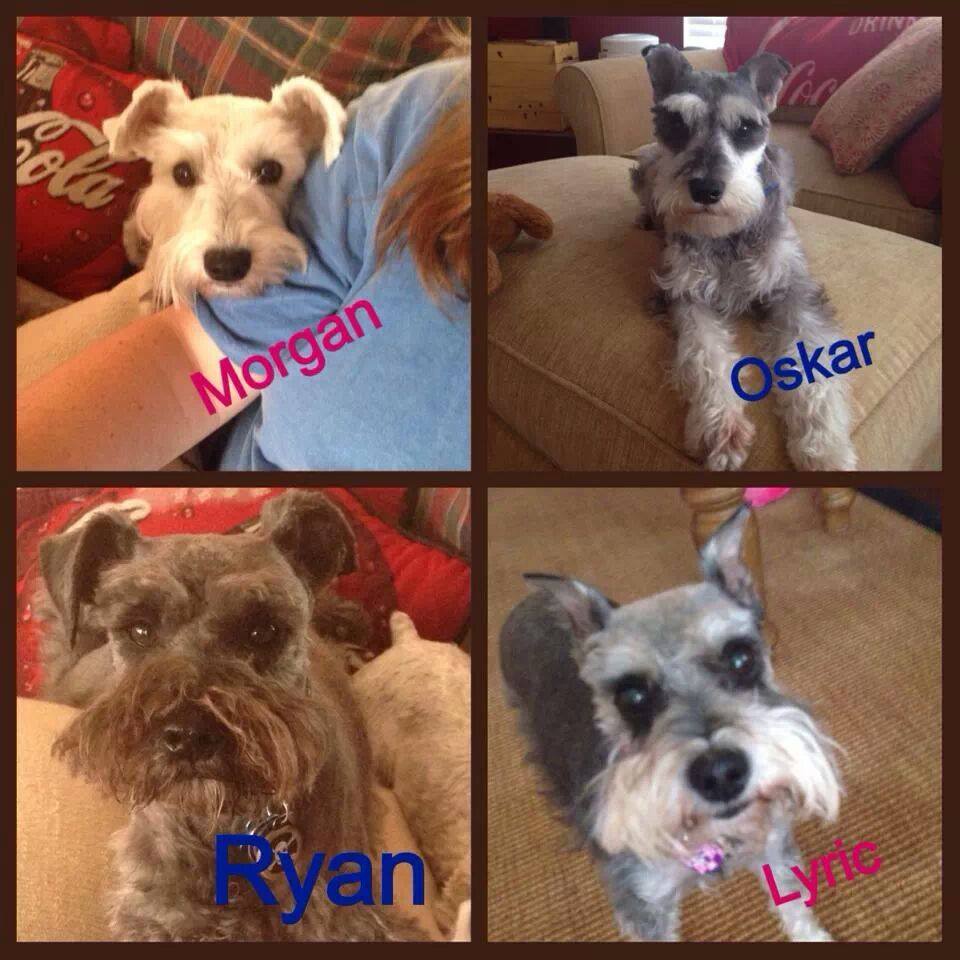 While Morgan's family was never found, she may have truly been an unwanted dog; it's so encouraging to see the exhaustive steps Vaughn took to find her family and he provides a good blueprint to help others who find a stray pet. It's also very exciting to see that Morgan didn't become another kill shelter statistic, instead, she now has a loving family to spend her life with! Thanks to her adoptive mom for giving her such a good life – and of course to Vaughn for being such a kind friend to animals!
Tips for Reuniting Lost Pets With Their Family
• Take the animal to a local vet, shelter, or pet store to have them scanned for a possible microchip
• Post "Found Dog" (or cat) flyers in your neighborhood, local vets, shelters, and pet stores – for the pet's safety, you may choose not to identify the sex, color of collar, or something unique about the pet to assure you return the animal to his/her rightful owner
• Post online: Craigslist, Facebook, Twitter, Instagram, etc. and ask people to help look for the pet's owners
• Email your friends, family, and co-workers and ask them to help spread the word that you have found an animal that may have a family searching
• Look on Craigslist and social media sites for "lost pet" posts. Craigslist makes it easy; you can go to your location, then use the 'search feature' – Ask others to help you search too!
• There are many local "lost/found" pet pages on Facebook; you can search for them and ask others to help you find them
Tips for Pet Owners
•  Microchip your pet; check with frequency, at least annually, to assure that the chip is current and working properly
• Keep current photos of your pets; in the event you need to search for a lost pet, having current photos that are good of your pet can help others help you find your pet
• Assure your pet's collar tags are readable and contain current contact info; if you have both a home phone and mobile, use your mobile number on the ID tag. If you are out searching for a pet, you can be reunited more quickly if you use your mobile phone number.
• If your city or town requires pets to be registered, keep it updated as the registration number can also help reunite pets if they are taken to the animal shelter
If you have a story of animal rescue or adoption to share, please click here to message me via the story submission form PLEASE NOTE: if you have any animal in need of adoption or rescue, please post that info on the PawsTexas Facebook page; be sure and include city, state, a contact phone or email and as much information about the pet as you can.
Subscribe Now: Be sure and subscribe to join the Pack and never miss an informative Pawsitively Texas blog post! Simply add your email address, then click the Subscribe Now link. Look for the yellow/orange icon in the upper right column. No worries, we'll never spam you, you'll only receive an email notifying you of new blog posts on Pawsitively Texas. Thank you for your support of my work for the pets!