April 27, 2012
My thanks to Dallas blogger Larry Powell for covering the DAS shelter commission meetings; most people can not attend a meeting at 1:00pm on a weekday due to their work schedules so his reports keep us informed. This blog post began as a comment on his blog, only to expand into a full blog post due to the points I wanted to address. The paragraphs below in quotation marks, italicized type, and identified with "-LP"  are snippets from Larry's report of the April Dallas Animal Services Commission meeting held yesterday. The paragraphs that follow Larry's excerpts are my comments; I'm sharing in an open blog forum in effort to find a way to 'wake Dallas leaders up from their positive spin slumber.'
"A few weeks ago some commissioners had publicly expressed dismay and disgust over the way some of the "contract laborers" were handling animals – kicking doors on cages, dragging animals, etc. Some declared the topic would be brought up at the next meeting. Word was the lack of training and experience was showing through and also some of these temps confessed that they didn't like animals." -LP
WHOA! That is not indicative of "inexperienced employees," but a case of the wrong people for the job and sounds more like animal cruelty that should be investigated further. That cruel behavior should have resulted in immediate termination followed by a cruelty investigation. These workers, temp, contract, or fulltime, are paid at taypayer's expense. Number 11 of the No Kill Equation is a compassionate shelter director … it should go without saying that means the entire shelter staff. Can you imagine the outcry if temp hospital workers treated patients that way? If substitute teachers corralled their classrooms in this manner? Unthinkable; so why is it allowed at an animal shelter?! I'm astounded this was even an issue that had to wait to the next commission meeting. Why wasn't the result immediate termination and investigation? A solid volunteer program helps reduce the stress and workload of busy shelters; also, when people work for free (such as volunteers do) they often have much more vested interest and passion for their work than those that do it only to collect a paycheck. Yet the DAS volunteer program fails in comparison to other shelters; Seagoville and Rockwall can attribute much of their no kill success to their volunteer base, as do Austin and Williamson County.
"Also, Commissioner Mathias asked how shelter employees could have missed a dog with an embedded collar. Though that generally is something that happens to neglected animals outside the shelter, in this case the dog had been given the collar when it came into the shelter, but it had matured and gained weight during its shelter stay and outgrown its collar. (A vet had to cut it out of the dog's neck, we're told) Shelter Director Jones agreed that such things just shouldn't happen." -LP
Thanks to Commission Mathias for raising awareness of these issues. I hope Larry just failed to include that DAS shelter director Jones also stated she would be taking steps to assure these kinds of failures will not continue. Please tell me she did say that and is backing up her words with action to remedy this terrible problem.
The Dallas task force vision includes this statement: "Encourage compassionate and responsible behavior toward animals through public outreach and education." Shouldn't that compassion and responsible behavior begin with the shelter staff? Shouldn't the DAS staff lead by example? It's hard to take any one, any organization serious that says "Do as I say, not as I do."
"During the meeting she repeatedly referenced the "good news" aspects of stories on the DAS Facebook page." -LP
While the good news stories are important, DAS fails to fully utilize their social media page to save lives. Contrast the DAS page to those for other NTX community volunteer pages like
Irving: that has more than 10,000 networkers getting their pets' networked: http://www.facebook.com/IrvingAnimalShelter
Fort Worth has almost 8,000 networking their pets: http://www.facebook.com/fwaccurgents
Collin County has more than 4,000 networking their pets: http://www.facebook.com/Collincountyanimalsindanger
Arlington has more than 4,500 networking their pets: http://www.facebook.com/FAAStx
Dallas is totally missing MANY opportunities to save the pets by not using their Facebook page to post the animals (adoptable, rescue only, stray hold, etc.). So many people that follow these pages are not involved in rescue other than networking, it is their passion and contribution to saving lives. By not using the DAS Facebook Page for adoptable pets, urgent animals, and strays, the animals pay with their lives and on the taxpayers' dollar – as the shelter's stats continue to show.
"At the outset of the meeting, Commissioner Rebecca Poling, a veteran animal activist  and chair of the Dallas Companion Animal Project (the no-kill task force) , announced that she had taken a position with the company that provides "temporary staffing" for the shelter and is now doing "contract labor" at the shelter with marketing and publicity issues. During the meeting she repeatedly referenced the "good news" aspects of stories on the DAS Facebook page. She also told her commission colleagues that her temporary position had been cleared by the city attorney's office, that the office said there was no conflict of interest since her commission position is voluntary [all commissioners are appointed by city council members]." -LP
That is definitely a conflict of interest. City attorney's are often good at finding a way around integrity; remember when the Garland city attorney saw no ethics violation when the mayor pro tem intimidated two smaller, female peaceful protestors at the WFAA studios – which was caught on video tape? The Garland city attorney said the mayor pro tem simply exercised his freedom of speech right. Unless the DAS marketing position was posted, other applicants applied, and the best employee was selected, it looks bad on DAS and the Commission. Hopefully others did apply and she was the best person for the job, but it would have looked better in her announcement if she indicated the number of applicants she beat out. I wonder if any applicants that support the no kill equation applied …? However, anytime a city appointed task force chair also receives a paycheck from the same city, I see a conflict of interest. The ability to keep receiving a paycheck can be a strong influencer in the decisions made. Bad decision, Dallas.
As comparison, the Seagoville shelter has a very small budget; Sgt Bailey, the shelter director employs a strong volunteer base including the shelter's marketing and PR. Have you see their photos, their promotional flyers, adoption campaigns, and pets networked on Facebook – all produced and shared by volunteers – no budget needed.
"One of those optimistic areas mentioned at Thursday's meeting was giving a makeover to the city shelter, a generally plain facility with a lack of visual warm that even caught the attention of Dallas Mayor Mike Rawlings during a tour of the place. Commissioner Poling, whose husband Rich is a noted artist, presented a slide show with before and potentially "after" changes to the facility. … The idea is to make the animal shelter more inviting.

Of course, there's no money in the city budget for such a project, but, as Commissioner Skip Trimble noted, this is, after all, Dallas, and somewhere there's a big heart who might want to help the city improve the image of its taxpayer-supported animal shelter." – LP
The way to improve the image of the shelter is to become a no kill shelter free of spin and smoking mirrors. The no kill shelter put Seagoville on the map! It's not about a 'feel good' appearance of paw prints on the wall and cute dog and cat mobiles as much as it is saving lives. It doesn't take much thought to know that the animals impounded in the Dallas shelter would prefer LIFE over cute decor. People still won't bring their kids to a kill shelter full of stressed out animals that sense their fate and are fearful of the employees that kick their kennel doors and drag them. Some people simply can't handle going to a shelter and seeing all of the animals; one major way to increase adoptions is to take the pets to where people are. The pets are happy to be out of the shelter and people are more likely to adopt a happy animal vs. a stressed out or scared shelter pet. As for making the shelter a more inviting place, staff it with compassionate and passionate volunteers that know the current animal inventory and can help introduce prospective adopters to a pet that meets their search criteria – a good match system can lessen the number of adoption returns. And to improve the decor, don't spend money on professional artists, invite local students in to paint murals on the walls and create mobiles reflecting life with pets and the joy they bring us. It will cost little, better involved the community, bring free PR, and create a less sterile environment for those that do come to the shelter.
"So, no matter how positive the spin is on activities at the shelter, … means the shelter kills them by the thousands to make room for the next load. " -LP

Amen! While the air at the Commissioners meeting may have been positive for the ones making the reports, I doubt any of the thousands  of animals killed in Feb and March at the "Dallas Animal Services" felt the positive vibe. I know I felt no positive, or encouraging vibe as I read the report from yesterday's meeting.
Interesting to Note: DAS shelter director Jones attended the recent, very successful DFW No Kill Workshop as a guest of an exhibitor. The first session was Nathan Winograds, the 2nd was mine about marketing and social media to save lives – which was a theme throughout each speakers' session (the speakers were all experienced no kill expert leaders). I was told Jones left early and I do not know how many sessions she sat in on. I do know that she was the original winner of the day's TOP door prize  – round trip air fair on Southwest Airlines. Because she was not present to win (a requirement for prize winners), the prize went to another attendee whose name was randomly drawn from all attendees' names. I personally sent an invitation to Commission chair Poling, commission member Skip Trimble, and others on the city appointed no kill task force, but they did not attend the DFW no kill workshop.
Also interesting to Note: at the DFW No Kill Workshop, Dr. Ellen Jefferson of Austin Pets Alive! announced that San Antonio had hit their 3 year no kill goal in the first 3 months of contracting with Austin Pets Alive! to help them achieve no kill. They are following the no kill equation now, but in prior years, they continued to follow failed attempts year after year. The DAS task force was launched in October 2011 – 6 months ago. The kill rate is still astronomically high and the Commission / Task Force is still trying to figure out how to make antiquated programs increase the save rate, all the while animals continue to die in their care. Dallas does have heart and deep pockets – Dallas can become a no kill city, but they need to follow the proven program that is working in more than 30 cities throughout the US. And before anyone chimes in with "but it's not worked in a city the size of Dallas' remember that it is working in the largest no kill city in the US: Austin Texas.
THE PROBLEM IS NOT OVERPOPULATION OR IRRESPONSIBLE PET OWNERS. People like to use this as an excuse. Maybe it helps them to sleep at night, I don't know. One does not have to take responsibility to fix the problem as long as you can blame someone else. DAS kills more than 20,000 animals a year that enter their shelter. However, the city population is almost 1.3 million. The real problem is leadership that spins their wheels with six months of meetings with no true live outcome increase results, spinning 'positive sounding yarns' to distract from the horrific kill numbers, and for city leaders (staff, council, commission, and task force) choosing to ignore what's working in other cities. A leadership group that continues to meet and discuss the same old, tired methods that have never led a city to no kill is the actual problem as they have the power to lead the city to no kill. If San Antonio can hit their 3 year no kill goal in 3 months, Dallas can too.
"In the United States, current estimates from a wide range of groups indicate that approximately four million dogs and cats are killed in shelters every year. Of these, given data on the incidence of aggression in dogs (based on dog bite extrapolation) and save rates at the best performing shelters in the country from diverse regions and demographics, better than 90 percent of all shelter animals are "savable." The remainder consists of hopelessly ill or injured animals and vicious dogs whose prognosis for rehabilitation is poor or grave. That would put the number of savable dogs and cats at roughly 3.6 million. These same demographics also tell us that every year, roughly 23 million Americans are considering bringing a new dog or cat into their home, and 17 million of those households have not decided where they will get that animal and can be influenced to adopt from a shelter. Even if the vast majority of those 17 million (upwards of 80 percent) got a dog or cat from somewhere other than a shelter, U.S. shelters could still zero out the deaths of savable animals. On top of that, not all animals entering shelters need adoption: dome will be lost strays who will be reclaimed by their family (shelters which are comprehensive in their lost pet reclaim efforts, for example, have demonstrated that as many as two-thirds of stray dogs can be reunited with their families). Others are unsocialized feral cats who need neuter and release. Some will be vicious dogs or are irremediably suffering and will be killed. In the end, a shelter only needs to find new homes for roughly half of all incoming animals.
From the perspective of achievability, therefore, the prognosis for widespread No Kill success is very good. But let's put all this aside. Let's assume "pet overpopulation" is real and insurmountable. To do that, we have to ignore the data. We also have to ignore the experiences of successful communities. In the United States, to accept the "No Kill is impossible" argument requires pretending the knowledge and the results do not exist." – No Kill Primer, authored by No Kill Advocacy Center
Doing the Math … The Dallas Animal Services shelter kills an average 25,000 shelter animals; the no kill save rate of 90% is 22,500. Divide the number of approximate healthy, adoptable pets by the City population of 1.2+ million and we see that less than 2% of the Dallas population is needed to give these animals a home vs. the death needle. Two percent of the Dallas city population! Every year, people look to add a new pet to their family; it's not unreasonable to believe that 22,500 Dallasites, out of more than 1.2 million will be ready to add a new pet to their family annually. And given that many homes have more than one pet, the number of adoptive homes needed becomes even less. Achieving a save rate of more than 90%, even with more than 20,000 animals needing a home annually is achievable.
If a city the size of Austin can have more than 700 volunteers helping out at just one no kill organization (Austin Pets Alive) why can't a city the size of Dallas have that? The city is full of caring people and many individuals, businesses, and organizations would help fund the change needed and volunteer – if only they were asked. We see it all the time on the Pawsitively Texas Facebook page; we share a need and the community responds with help.
A positive spin from commission members carries little meaning. Actions and results speak. C'mon Dallas animal shelter/commission/task force leadership, YOU have the power to lead to true change and to implement true life-saving procedures. Are you willing to truly lead the city to no kill? Or will you continue to hide behind transparent spin? If you truly want to lead the city to change, volunteers are standing by.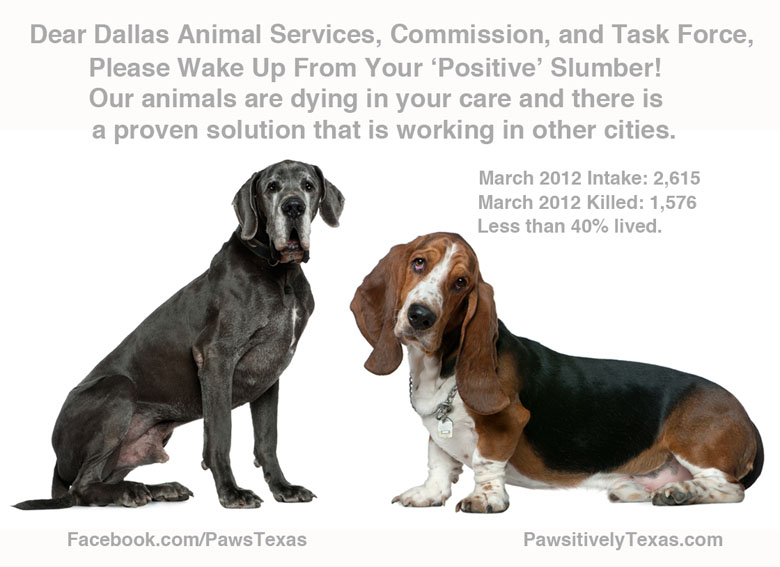 To read Larry's full blog report, click here.  And to see and share the city of Dallas shelter pets in need of adoption, click here.
Subscribe Now: Be sure and subscribe to follow the Pack and never miss an informative Pawsitively Texas blog post! Add your email address, then click the Subscribe Now link. Look for the yellow/orange icon in the upper right column. No worries, we'll never spam you, you'll only receive an email notifying you of new blog posts on Pawsitively Texas.