14 October 2013
Rainey, Stormy, and Cyclone were surrendered by their owners to the Houston, Texas animal shelter in horrific condition. I saw the post from Houston, Save Lives is our Mission, and immediately shared on the Pawsitively Texas page Saturday evening. The response was beautiful as people took up these dear dogs' cause with shares and donation inquiries.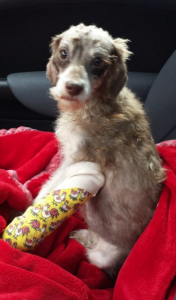 Thankfully, Red Collar Rescue in Houston was able to save all three dogs and get them to vet care. Red Collar writes "WE NEED YOUR HELP! Today, we welcomed three very special dogs into our family – turned in by their owner at the pound, these dogs have been neglected for a very long time. One in particular, Rainey, has a long journey ahead of her but we will be with her every step of the way! Her back leg is missing from the knee down and about 3" of dead bone is exposed. Her front foot has all of the metacarpal bones stripped down to the bone and the phalanges are missing completely. 
Rainey has moved from the ER to our regular vet today! Here she is on her way – she had a bath overnight and feels so much better!"
Red Collar Rescue is a 501(c)(3) rescue and is in need of donations to help them reach their goal of $5,000 for medical care for Rainey. Here is the link for: Rainey's medical needs They have currently raised $506.
We know there is bad in our world. But I am so thankful that we have the communication tools available to instantly raise awareness for pets in need and the ability to quickly be the change we wish for our world. Thank you to everyone that cares, shares, offers prayers, donations, and help to give these dear ones a better life! And thank you Red Collar Rescue for saving these three wonderful dogs and giving them a real chance at life and love!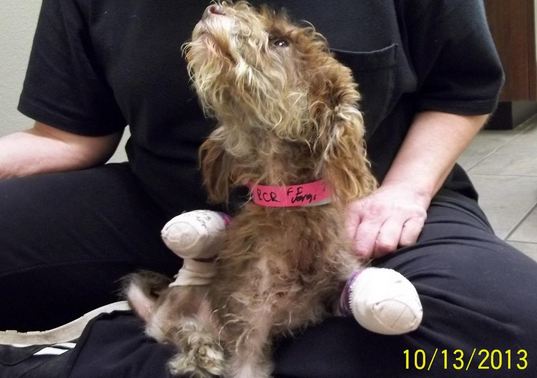 Here is the original post I shared on the Pawsitively Texas Facebook page; it received tremendous exposure thanks to the 1,333 people that shared, the 413 that liked, the more than 400 that commented, and the more than 67,000 people that saw the post. A reminder that although some animals sadly know neglect, many, many more people care about them and will help! We just have to get the message to them!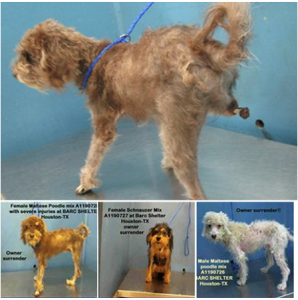 "DIFFICULT TO SEE – DOGS IN NEED OF IMMEDIATE RESCUE/MED CARE – owner surrenders (may be charged with cruelty) – Houston, TX – CONTACT: BARC.AID@HOUSTONTX.GOV OR MAURICIO.ZEPEDA@HOUSTONTX.GOV • Can anyone get them out ASAP and to the vet?
Houston, Save Lives is our Mission writes "They are 2 females and 1 male, all by same owner!…poodle, maltese and Schnauzer mix! These is what BARC sent: Available now for foster or transfer.
These three little dogs came in as owner surrender today. We have sent to HPD for possibility of cruelty charges but we have gathered all necessary information at this time and would love to get them out of the shelter. Please be aware the following photos are quite graphic. A1190728 needs vet care urgently to determine extent of her injuries and treatment options. All three are very sweet and friendly in spite of what they have suffered through.
A1190728 – very sweet dog with severe injuries–owner said that she had gotten her leg caught in a rope and thought it was better until the leg fell off. Dog is missing its leg from the knee down on back right leg and there is about 3 inches of bone exposed and dried out. The left front foot has only exposed metacarpal bones stripped down to the bone and phalanges are missing completely and the bone is dried out. Dog is walking on this foot with a limp. There is a very foul odor from the leg. These do not appear to be recent injuries. She has thinning hair and hairloss over mid to lower back. Skin scraping was negative. Dog is very sweet and friendly.
A1190727 – Very cute, sweet little dog. High positive for heartworms. Multiple areas of hairloss and infested with fleas. Skin scrape was negative.
A1190726 – Another sweet little dog; lots of hairloss and sores all over body. Skin scrape was negative and negative for heartworms.
Thanks for giving these dear ones the exposure they need. Prayers for these precious ones to be saved, healed, and loved for the rest of their lives!"
Subscribe Now: Be sure and subscribe to join the Pack and never miss an informative Pawsitively Texas blog post! Simply add your email address, then click the Subscribe Now link. Look for the yellow/orange icon in the upper right column. No worries, we'll never spam you, you'll only receive an email notifying you of new blog posts on Pawsitively Texas. Thank you for your support of my work for the pets!
[photos source: Red Collar Rescue and Houston's BARC]