7 December 2013
How a Photo Shared Started a Chain of Events that Saved the Lives of  Two Dogs …
Drake found himself at the Parker County Animal Shelter in Weatherford, Texas. Then he landed on the danger list as the shelter was full and he had heartworms. I shared him here on the Pawsitively Texas Facebook page and people got busy giving him needed exposure. He received 1,178 shares, 630 likes, 90 comments for 24,536 post views! He captured Debbie Forrest's heart and interest; she wrote "I just spoke with them. I'm driving from Dallas to see him in a few moments;  hope he's a match for us and our senior dog, Rahzi."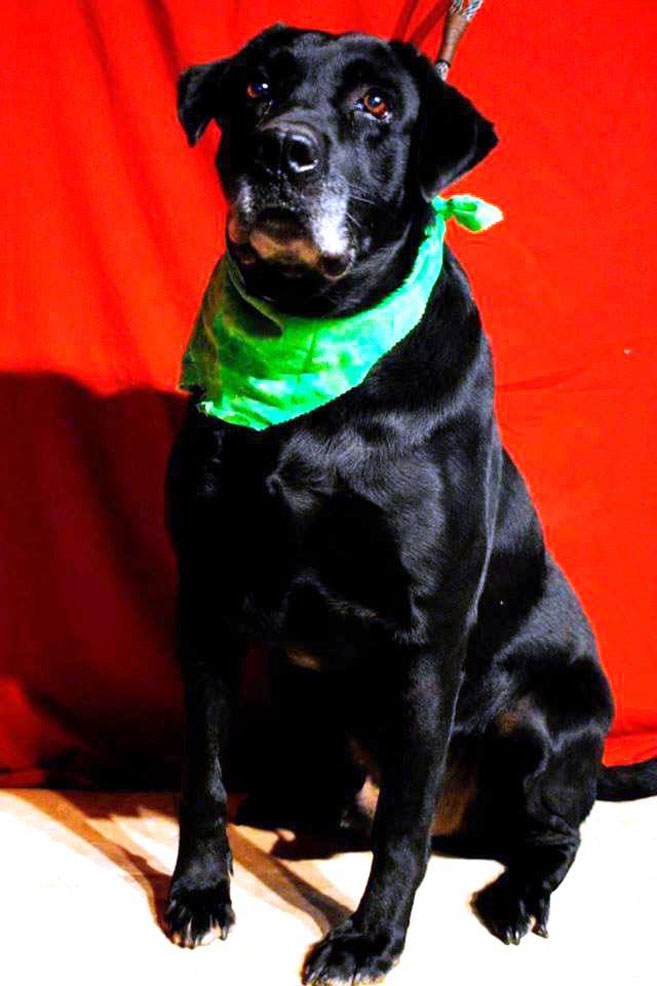 Drake had a guardian angel keeping a close eye on him and working to give him exposure; she wrote "Drake is 4 y.o. and 102lbs. He is HW+ but Parker County Pets Alive will help with treatment. Thank you for sharing Drake with your followers! Let's find him a home!"
Debbie posted an update "Drake wasn't a match for us. But I adopted another sweet boy." I received the most beautiful post from Debbie Forrest on the Facebook page she wrote "We would like to thank you for giving us exposure to the Weatherford Parker County Animal Shelter. It is because of you and them that we have added our cute pup Ruger (shelter name Duke) to the family 2 days ago. He is living with an older female dog also. Here he is after our 3 mile walk. Thank you for all you do and let me mention how wonderful a facility that was, with indoor/outdoor pens for every individual dog. Bless!"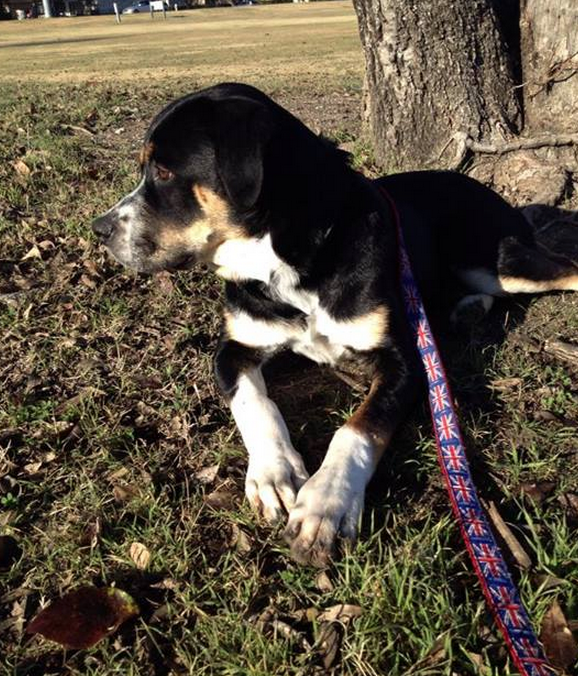 And Parker Pets Alive shared this beautiful adoption photo with us of Ruger and his new mom, Debbie!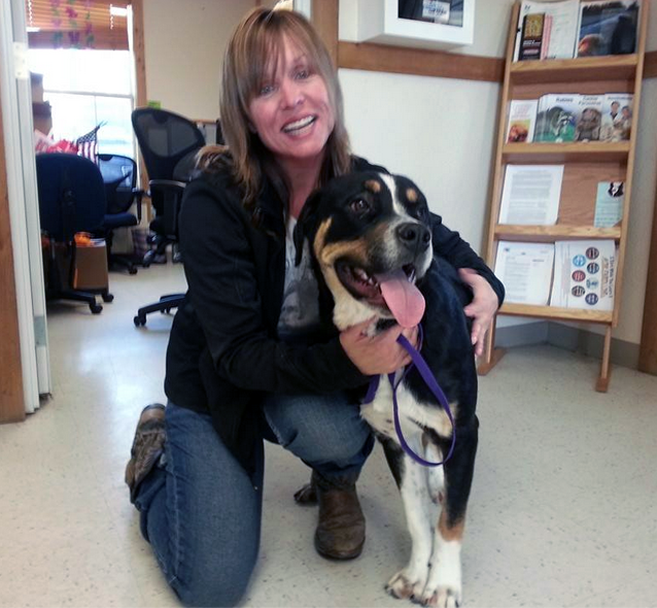 It's a day to celebrate whenever any pet gets adopted – especially so when the shelter is full! Drake was still in danger, but his guardian angel, kept vigil over his status. Lee Ann Adams, President of Parker County Pets Alive, continues the story "Our rescue had him as a "Special Black Beauty" pet sponsoring half his adoption fee and offering to pay for his HW treatment via the shelter vet. His guardian angel decided to adopt him and try to find his real owners. PCPA payed half the adoption fee as promised and set up his HW treatments (that will begin next week)."
Guardian Angel took Drake home – all 100+ lbs of this adorable fella – and began her search for his real family; she posted him on here on Pawsitively Texas  writing "PLEASE share these photos. I am fostering him & I think he's definitely someone's pet 'cause he's really missing his family. He whined and stared at the door all through the night. He weighs 109lbs. This boy was well loved! I have the collar he was wearing when picked up. It's very distinctive. Please message me if you have a lead. Let's get this boy home for CHRISTMAS!"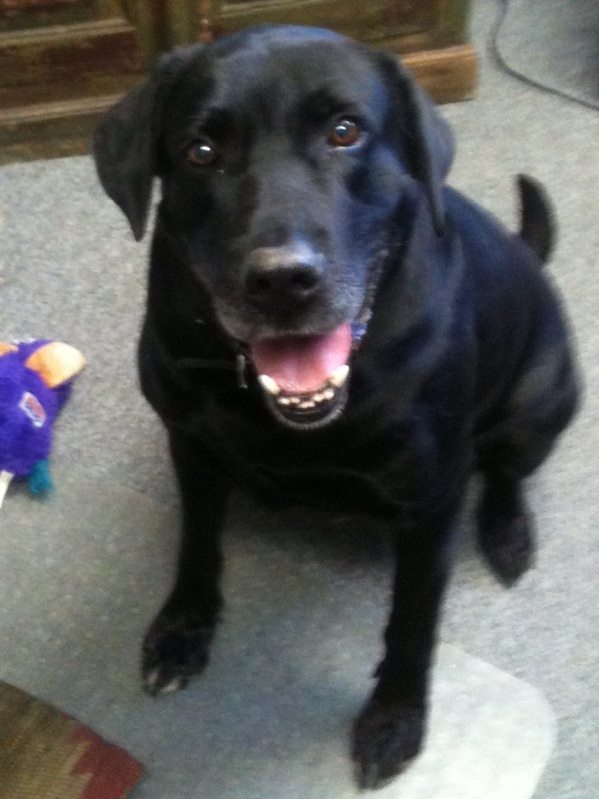 A photo flyer was also made to help find Drake's missing family …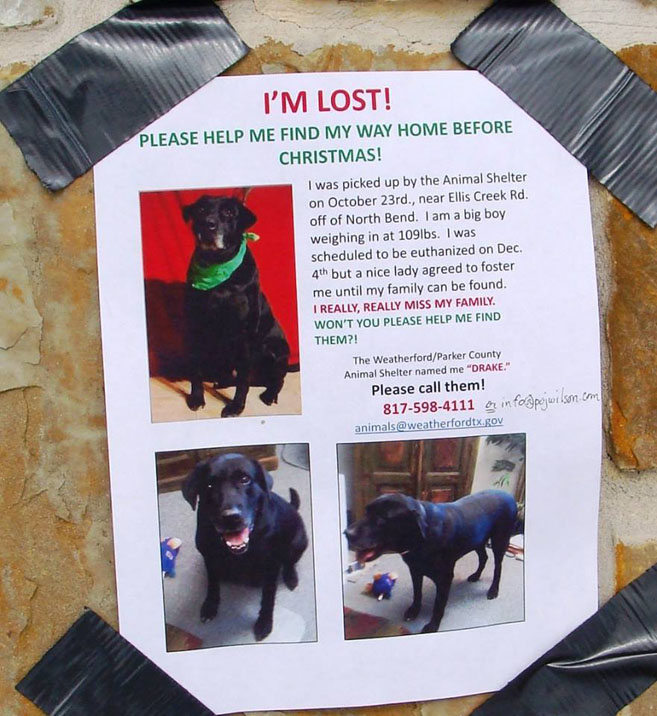 And then, her compassionate diligence paid off; she found Drake's family. She drove on icy roads to get him back HOME! Lee Ann says he celebrated by promptly marking his family's Christmas tree! Parker County Pets Alive will still help the family pay for his heartworm treatment as it can be expensive for a dog weighing over 100 lbs.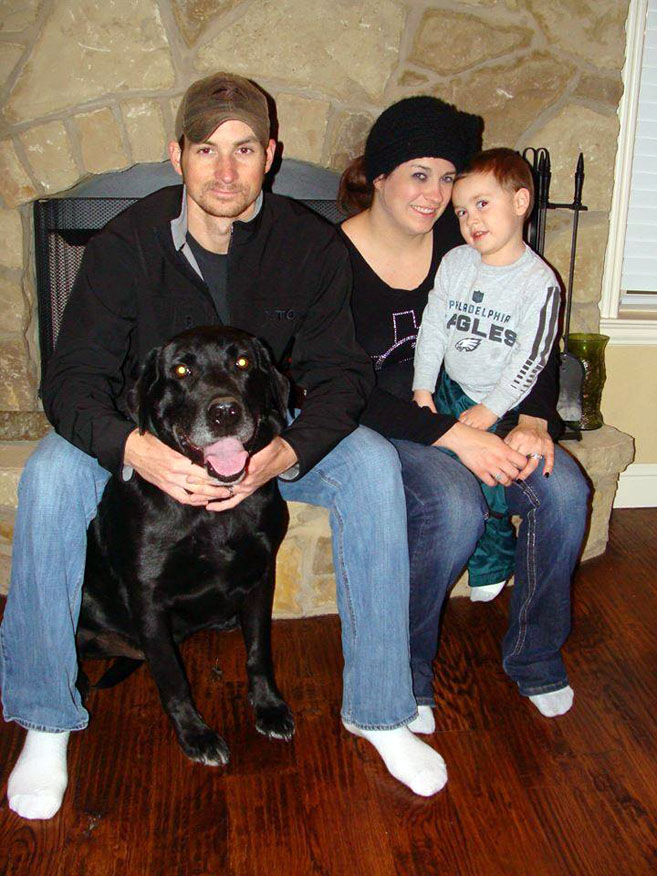 This tale of two dogs has such a miraculous theme. If not for Drake being lost, on the shelter danger list, and his cute photo shared on Pawsitively Texas, Debbie may never have made the approximate two hour round trip to Weatherford, which is where she met Ruger (Duke) and adopted him. If not for Ruger, Debbie might have adopted Drake and he would not have been reunited with his beloved family. If not for his Guardian Angel, Drake not only would have been in danger of never returning to his family, but his very life may have been cut short. If not for the offer by Parker County Pets Alive to help pay for Drake's adoption fee and heartworm treatment, his Guardian Angel might not have been able to do her part in saving him. If not for people who donate to rescues, Parker County Pets Alive might not have had the funds to help. And, if not for the Parker County animal shelter partnering with volunteers, we most likely would never have known about Drake and Ruger. So many pieces of this puzzle had to come together at just the right time to make these stories possible including the people who work every day behind the scenes to give a pet exposure, care, and/or donate to their need. One person can truly make a difference and when we all work together, we see the beauty of pet's lives saved  via pet adoptions and family reunions!
THANK YOU to everyone who joins me in making beautiful pet adoption stories possible on the Pawsitively Texas Facebook page! And thank you to Debbie for sharing your pet adoption story with us – and Lee Ann and Guardian Angle for sharing Drake's happy reunion story!
I'm blessed to see the progress the Weatherford/Parker County Texas animal shelter is making. Volunteers have attended the two no kill/pets alive workshops Pawsitively Texas has hosted in North Texas and this year, the shelter director, veterinarian, and staff also attended! It's simple programs, when implemented, that save the lives of the shelter pets! Please like the Weatherford Parker County Animal Shelter Facebook page, click here, and the rescue page, Parker County Pets Alive here to help give all their homeless pets needed exposure! There is also a volunteer page for the shelter Friends of Weatherford Shelter Pets. Happy new life Ruger & family!
If you have a story of animal rescue or adoption to share, please click here to message me via the story submission form You can read more Pet Adoption stories here.
Subscribe Now: Be sure and subscribe to join the Pack and never miss an informative Pawsitively Texas blog post! Simply add your email address, then click the Subscribe Now link. Look for the yellow/orange icon in the upper right column. No worries, we'll never spam you, you'll only receive an email notifying you of new blog posts on Pawsitively Texas. Thank you for your support of my work for the pets!