20 November 2013
On Friday, November 15, Lee Ann from the Weatherford, Texas group Parker Pets Alive emailed Elvis' photo to assure I knew about him. He was in Mineral Wells, Texas, a small, rural shelter about an hour west of Fort Worth. The photo the shelter page had posted of Elvis was absolutely adorable; I shared it to the Pawsitively Texas Facebook page in effort to give him exposure with the following caption …
"ELVIS HEARD A FELLA'S REALLY GOT TO STAND OUT to get people to give him the exposure he needs for adoption, so he's giving it his best shot. This doll baby is available for adoption at the Mineral Wells, TX shelter. Not many details given about Elvis, but the shelter can tell you more. They also have some wonderful cats there too!"
Of course, Elvis was a hit! His adorable photo received 2,002 shares, 1,503 likes, and 220 comments for a total 83,584 post views. The town of Mineral Wells has a population less than 17,000. Proof once again that shelters can generate exposure for their pets when they follow the simple business principle of marketing their pets! And with social media, it's never been easier and is free advertising!
Everyone fell in love with Elvis. Especially Sara! And on Saturday, just one day after Elvis' photo went viral, he was on his way home with his new family! Sara posted this photo on the Pawsivitely Texas wall, along with the caption, "Elvis has left the building!"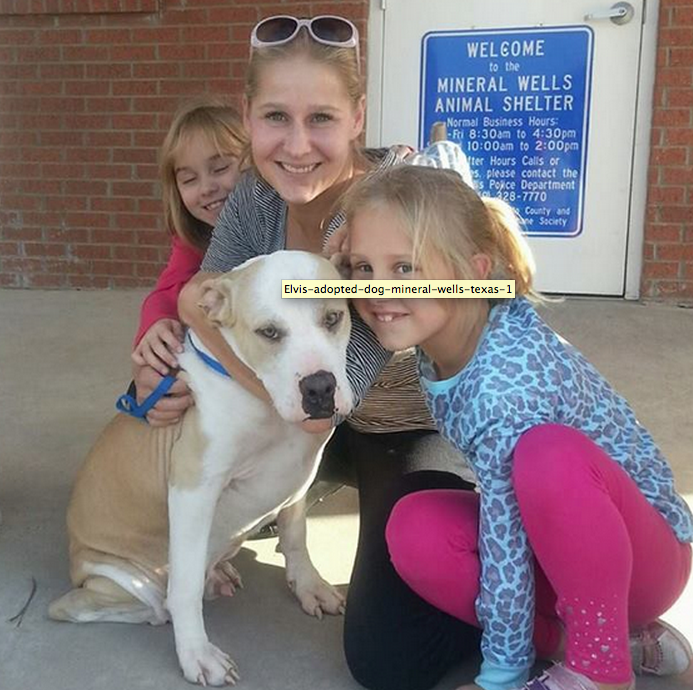 Happy new life, Elvis!
Thanks to all who take photos and share them on social media. Even though the Mineral Wells, Texas animal shelter is small and somewhat rural, they do one beautiful job of taking photos of their pets, writing a bio, and posting sharing on social media! Volunteers photographers like Brandon Holder Jackson help the shelter pet's personality shine! It is simply the easiest and most cost-effective way to give the pets the exposure needed to find a loving home! And as Elvis' adoption story proves, it truly is a life-saving effort! Be sure to follow the Mineral Wells Animal Shelter Facebook page to help more dogs like Elvis find a loving home!
Subscribe Now: Be sure and subscribe to join the Pack and never miss an informative Pawsitively Texas blog post! Simply add your email address, then click the Subscribe Now link. Look for the yellow/orange icon in the upper right column. No worries, we'll never spam you, you'll only receive an email notifying you of new blog posts on Pawsitively Texas. Thank you for your support of my work for the pets!