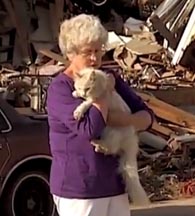 May 20, 2011
Judy Pugh and her three cats took cover when she realized a tornado was near her home in Alabama. The home was devastated, but Judy and two of her cats survived. She held onto hope she would find her other baby of 10 years – and searched every day for three weeks. During an interview with a CNN reporter, her cat appeared. The reunion will touch your heart and stir your soul. And Judy Pugh said it all … "I have everything in the world now."
Praise God for miracles!
Click the arrow to watch the story below.
Networking is a powerful tool we have to save the lives of the precious animals that depend on us so. Please continue to invite friends, family, and colleagues to join us here on Pawsitively Texas! And if you haven't already, add your email address to our subscription box in the upper right column – you'll be notified when new blog posts are published here (that's all, no spam from us!) – and you won't miss any of the great stories!