8 February 2013
MISSION: PETS ALIVE!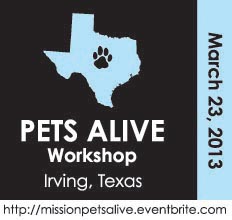 If you are interested in learning more about programs that increase the live release rate of shelter pets, you will not want to miss this amazing workshop on March 23, 2013! Inspirational people. Innovative programs. Increased live release rates. We have what is needed to continue to save the abandoned pets in our communities. We just have to implement the proven programs. Will you join us?
Mission: Pets Alive! is a one-day premiere workshop showcasing best practices for increased adoptions and live release rates. Meet experts that have combined innovation, dedication, and a pets alive mission to save the lives of pets in need in their community. We will take a virtual video tour across Texas and see first hand how these inspirational leaders are achieving success! Our speaker panel consists of leaders from Texas no kill communities and a public relations media expert. Topics include:
The Shelter/Volunteer Relationship: learn how volunteers can provide valuable resources,  manpower, and efficiencies for shelter operations increasing pet adoptions/live release rates and excellence in customer service and community relations. – Sgt. Karl Bailey, Seagoville Animal Shelter
Building an Effective & Large Volunteer/Foster Program: volunteers are key to the pets alive mission. Learn how to recruit, build, and maintain a solid volunteer program. –Dr. Ellen Jefferson, Austin Pets Alive!
Shelter Crisis Management: discover how to maintain no kill during high intake seasons, budget cuts, and other unexpected challenges. – Cheryl Schneider, Williamson County Animal Shelter
Advocacy 101:  Advocating for the pets in my community … Where do I start?" Who do I contact? What do I say? What if they say "no?"  – Michael Kitkowski, Rockwall Pets 
Get Your Paws On More Media – Marketing Without Money: the community is full of animal lovers that will support pets in need, if they know the need. Find out how to get the news media to report your stories! – Jeff Crilley, founder Real News PR, is an Emmy winning, former TV reporter, who will share the insider secrets to getting your stories in the news!
SURPRISE SPEAKER: learn how a school teacher, with the support of her husband, reformed her community's shelter and how the 2012 North Texas workshop was instrumental in her success!
The Pets Alive Video Texas Tour:
The first of it's kind, with the video tour you will discover innovative people and programs that will both inspire and educate!
Q&A No Kill Shelter Pet Expert Speaker Panel:
We want you to leave with questions answered and empowered to continue the pets alive mission, so come prepared to ask! The expert panel will include pets alive leaders, advocates, street stray rescue, social media, and more!
—> NEW THIS YEAR -– a Brown Bag Luncheon! We wanted to keep costs low and increase the amount of time to meet and network with other pets alive advocates and by staying in for lunch, you'll have more time to do so! No refrigerator or microwave available – just brown bag it =).
—>  NEW THIS YEAR -– a Swag Bag! All Early Bird registrants who register by Friday, February 22, 2013 will receive a complimentary swag bag that includes a pets alive T-shirt, goodies, and a No Kill Advocacy Center CD that is loaded with incredible resources to assist you in your pets alive mission! Included on the CD are notes from the 2013 National No Kill Workshop, feral cat program, advocate's tool kit, fiscal impact, animal law, and so much more!Please understand due to production time, we must limit to those that register no later than Friday, February, 22, 2013! Must be present to receive swag bag.
DOOR PRIZES: Must be registered and present to win.
LIGHT REFRESHMENTS: provided.
SCHEDULE: Registration Opens at 9:30am • Workshop Begins at 10:30am • Arrive early to network with others!
THE PRICE OF ADMISSION: the admission price is necessary to cover workshop expenditures; we make every effort to keep price as low as possible to be affordable for all. This year we have the added costs of the video and travel, but it will be fantastic!
WHO SHOULD ATTEND? Animal advocates, shelter directors, animal control officers, rescue groups, animal shelter board of directors, shelter task force, elected officials, realtors, students, activists, volunteers – essentially anyone interested in increasing shelter pet adoptions and live release rates in their community! This workshop is designed for YOU – a person that wants to volunteer, implement, inspire, and/or lead change in your community. Think one person can not make a difference? Come meet our Speakers who have been catalysts in creating pets alive communities. Leave informed, inspired, and with a blueprint of what you can do to help save lives in your community. The event is open to anyone who wishes to learn and do more!
For More Information, please see: http://missionpetsalive.eventbrite.com/?discount=PawsTex We ask if there is any way possible, that you register by Friday, February 22, 2013. Early registration helps us tremendously in planning this many logistics for this event!
Hope to see you March 23!
Alva
Subscribe Now: Be sure and subscribe to join the Pack and never miss an informative Pawsitively Texas blog post! Simply add your email address, then click the Subscribe Now link. Look for the yellow/orange icon in the upper right column. No worries, we'll never spam you, you'll only receive an email notifying you of new blog posts on Pawsitively Texas. Thank you for your support of my work for the pets!