October 17, 2011
National Feral Cat day. Alley Cat Allies launched National Feral Cat Day in 2001 which was also their 10th anniversary; the Day is designed to raise awareness about feral cats, promote Trap-Neuter-Return, and recognize the millions of compassionate Americans who care for them. According to the National Feral Day website map, there are 16 events in Texas in celebration.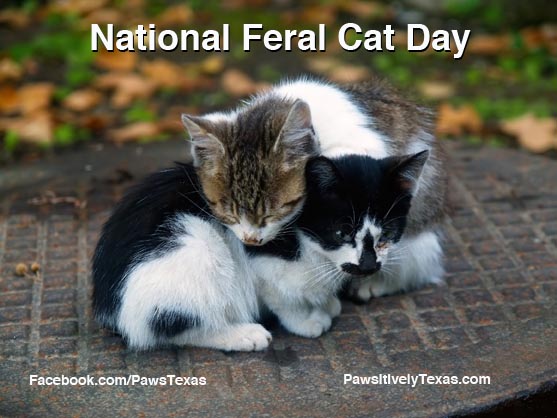 Feral cats are not stray cats. Feral cats are descendants of domesticated cats (often lost, abandoned or stray) that have been born and raised in 'the wild' meaning without human contact. Communities manage their feral cat colonies via a Trap-Neuter-Return (TNR) program that spays/neuters the cats and often vaccinates them against rabies. The purpose of the TNR programs is humane feral cat population control.
Feral cats live in colonies near a steady food supply source and are often afraid of human contact. There are several Texas organizations dedicated to feral cats and include:
Feral Cat Rescue Group – University of North Texas
Feral Cat Society of Austin
Feral Friends Community Cat Alliance
Barn Cats
San Antonio Feral Cat Coalition
Feral Cat Assistance Program
Brazos Feral Cat Allies
Texas Cat Adoptions
Heart of Texas Feral Friends – Waco
KittiCo Cat Rescue – Dallas
Shadow Cats – Austin
Feral Cat Hotline – Houston
All Cats – Houston
The O'Malley Alley Cat Organization – Nacogdoches
Feral cat TNR organizations improve our communities in Texas – so today, especially, we express our gratitude for the care you give our communities by taking care of the feral cats that reside here too.
Subscribe Now: Be sure and subscribe to follow the Pack and never miss an informative Pawsitively Texas blog post! Add your email address, then click the Subscribe Now link. Look for the yellow/orange icon in the upper right column. No worries, we'll never spam you, you'll only receive an email notifying you of new blog posts on Pawsitively Texas.