May 8, 2012
Since I first began Pawsitively Texas, my dream is to see all shelter pets have a voice. To have someone work on their behalf to tell their story – to give them the absolute best chance at life. I'm so encouraged to see the many shelter Facebook pages that have been launched by volunteers and shelters to create awareness for the pets in their community. Social media has given us a powerful new tool in saving the lives of shelter pets, not just in helping move them out to rescue, but by also helping people find a place to plugin as a volunteer (foster, photographer, adoption helper, transporter, networker, etc.).
However, there are still so many Texas kill shelters that never give their pets a consistent voice on social media. The purpose in my post today is to raise awareness of some of these shelters with the hope that it will inspire people to partner with their local shelter to begin raising awareness for the shelter pets in their city. And to actively encourage others to do the same!
The list below offers a clickable link to each shelter listed; simply click on the shelter name and a new browser window will open to the animal shelter website. Please Note: this is only a partial list, Texas is a very big state! Please partner with an animal shelter in your community regardless if on this list. As you click through, you'll be saddened to see that some shelters currently list no pets as available for adoption or on stray hold; however, volunteers can transform their community by taking on this role. Our Texas shelter animals need a voice; please share, but also, take a proactive recruitment role to build a volunteer network team for your community, or one without a shelter support volunteer system. It costs nothing but time – saving shelter animal lives is worth that!
Be the change you want to see!
Help build a Texas army of compassion for shelter pets! 
These links have additional information to help you network the shelter animals: best tips for posting on Facebook and tips for great shelter pet photography and saving shelter pets.
Texas Animal Shelters – Give the Pets a Voice
TEXAS GULF COAST REGION
Aransas County Animal Control – Rockport 
HOUSTON AREA
Deer Park Texas Animal Control
Houston BARC Animal Shelter and Adoptions
NORTH TEXAS
Grapevine Texas Animal Control
Mesquite Texas Animal Shelter & Adoption Center
PAN HANDLE TEXAS
SOUTH TEXAS
To see more Texas animal shelters, click here.
Subscribe Now: Be sure and subscribe to follow the Pack and never miss an informative Pawsitively Texas blog post! Add your email address, then click the Subscribe Now link. Look for the yellow/orange icon in the upper right column. No worries, we'll never spam you, you'll only receive an email notifying you of new blog posts on Pawsitively Texas.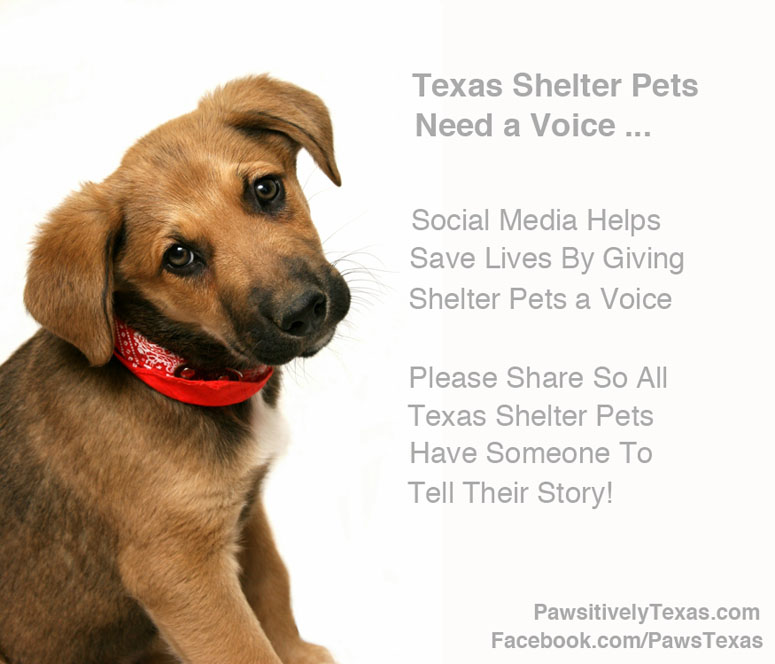 Related posts: