20 September 2013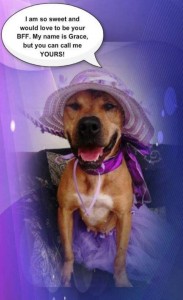 Do you remember Gracie? We met her two days ago when Pasadena Poodle Patch shared her on the Pawsitively Texas Facebook page. The PPP gang had dressed her up and taken a fun photo to help share her sweet personality, but also stated she only had two days to find a safe place to land. Her deadline was today, Friday, September 20. Volunteers wrote "Grace is now urgent and has until Friday to find a rescue to pull her. She is at Pasadena Animal Shelter, 5150 Burke RD, Pasadena, TX 77504 281-991-0602. Grace was in an altercation with another dog (that has been dog aggressive before). All dogs are fine it was minor but she needs help. Grace has lived with dogs and cats in the past She's just been in the kennels too long and has pent up energy. She was evaluated today by Top Tails Training with Christine Schnitzer (see comments) and they are willing to work with her for free. Please share you may comment here but Grace is at the Pasadena animal shelter 5150 Burke Rd., Pasadena, TX 77504. Ask for Grace at the adoption desk"
The networking community got busy! The post on the Pawsitively Texas page received 905 shares, 338 Likes, 40 Comments and 27,472 post views.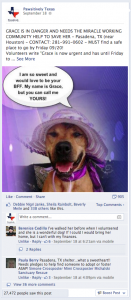 Gracie became an internet sensation as people near and far shared her plight and prayed for a miracle!
And today, we see Gracie got her miracle! Pasadena Poodle Patch reports "Today has been a raining messy day but we have a ray of sunshine to deliver. GRACE has been rescued by Southern Comforts Animal Rescue – TX!! This is Henry her new trainer he works with Top Tails Training. He is taking Grace to foster and rehabilitate her so she can find her the perfect family and forever home. Please join us in wishing them a happy ever after for Grace. We want to thank all of you for sharing her and pulling for this girl. She's a sweetheart that's had a hard life and deserves to know love and kindness and now she has the chance."
I'm pretty sure Gracie has never looked more beautiful than she does today upon receipt of her life-saving miracle! Good luck sweet Gracie! I just know Henry will help you be the absolute best girl you can possibly be and one day soon you'll be in the loving home you are destined for!
Subscribe Now: Be sure and subscribe to join the Pack and never miss an informative Pawsitively Texas blog post! Simply add your email address, then click the Subscribe Now link. Look for the yellow/orange icon in the upper right column. No worries, we'll never spam you, you'll only receive an email notifying you of new blog posts on Pawsitively Texas. Thank you for your support of my work for the pets!