June 11, 2012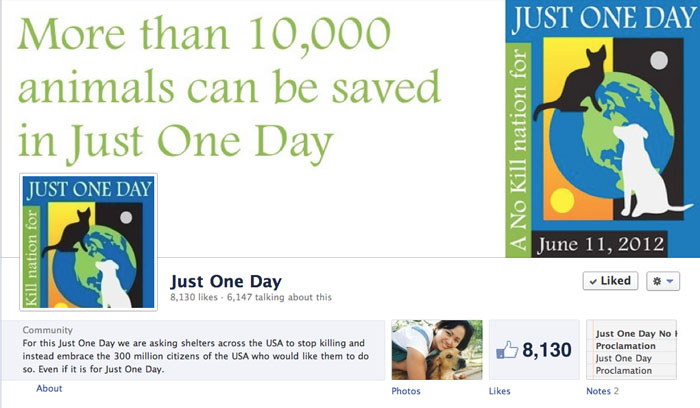 What is the Just One Day Pledge?
"What is a day?
There are many ways to answer that question.
A day is 24 hours. A day is how we measure how much time we spend at work. A day can be something we look forward to, a celebration of some kind. But in U.S. animal shelters, a day represents 10,411 lives needlessly lost.
To most people, June 11 is Just One Day. But, June 11 is a day that could change everything for 10,411 companion animals, and a day that can change the world. On June 11, 2012, we could be a No Kill nation.
We are asking animal shelters across the USA to take a pledge not to kill any savable animals on June 11, 2012. For Just One Day, "Euthanasia Technicians" will put down their syringes and pick up cameras. Instead of injecting animals with lethal doses of sodium pentobarbital, they will photograph them and post them on the Internet, on Facebook, on Twitter. On June 11, 2012, they will market their animals to the public, they will reach out to rescue groups, they will host adoption events with discounted rates, they will stay open for extended hours, and they will ask their communities to help them empty the shelter the good way.
Instead of going into body bags in freezers, the animals will go out the front door in the loving arms of families. At the end of the day, the shelters will be emptier than when the day started. And, no one will have had to die in order to make that happen."  Source: Just One Day
 How Can I Support the Just One Day Pledge?
It's easy! Tell others about the Just One Day mission by sharing this post and ask them to help you  network the animals awaiting adoption or rescue. Select an animal shelter or rescue and start sharing their pets with friends, family, co-workers, with rescue groups, Facebook networking pages, and Twitter. But don't stop there, be creative! Post on local media (news and radio) Facebook pages, message the news reporters and ask them to cover the adoption promotions to help more pets find homes today. By dedicating a few minutes today networking these Texas animal shelter pets, you can make a difference … and that's a great investment for your time!
Texas Organizations That Took the Just One Day 2012 Pledge
The following Texas animal shelters and rescues took the Just One Day Pledge as announced on the Just One Day website; please click on their organization name to see their adoptable pets and share them. This is a way that we all work together to support the Texas shelter animals in need of adoption or rescue – and the goal of building a no kill Texas! On behalf of the shelter pets, thank you to all Texas animals shelters, rescue organizations, and networkers for supporting this life-saving event!
Amarillo-Panhandle Humane Society – Texas
Organization Type: Traditional Shelter or Animal Control
Length of Pledge: Just One Day
Animal Advocates of North Texas – Texas
Organization Type: No Kill Shelter or Rescue
Length of Pledge: Now & Forever
Animal Rescue Foundation of Texas – Texas
Organization Type: Traditional Shelter or Animal Control
Length of Pledge: Now & Forever
Animal Shelter Volunteers of Texas – Texas
Organization Type: No Kill Shelter or Rescue
Length of Pledge: Now & Forever
Arlington Animal Services Center – Texas
Contact: Chris Huff – 817-459-6269
Organization Type: Traditional Shelter or Animal Control
Length of Pledge: Just One Day
Austin Animal Center – Texas
Contact: Abigail Smith -
Organization Type: Traditional Shelter or Animal Control
Length of Pledge: Now & Forever
Austin Pets Alive – Texas
Organization Type: No Kill Shelter or Rescue
Length of Pledge: Now & Forever
CANINE COMPASSION – Texas
Organization Type: No Kill Shelter or Rescue
Length of Pledge: Now & Forever
Chance's Haven – Texas
Organization Type: No Kill Shelter or Rescue
Length of Pledge: Now & Forever
City of Amarillo – Texas Animal Shelter
Organization Type: Traditional Shelter or Animal Control
Length of Pledge: June 11 to…
City of Houston – BARC – Texas
Organization Type: Traditional Shelter or Animal Control
Length of Pledge: June 11 to…
City Of Irving Animal Services – Texas
Organization Type: Traditional Shelter or Animal Control
Length of Pledge: Just One Day
City of San Angelo Animal Services – Texas
Organization Type: Traditional Shelter or Animal Control
Length of Pledge: Just One Day
City of Wichita Falls Animal Services – Texas
Organization Type: Traditional Shelter or Animal Control
Length of Pledge: Just One Day
Collin County Humane Society – Texas
Organization Type: No Kill Shelter or Rescue
Length of Pledge: Now & Forever
Concho Valley PAWS – Texas
Organization Type: Traditional Shelter or Animal Control
Length of Pledge: Now & Forever
Dallas Pets Alive! – Texas
Organization Type: No Kill Shelter or Rescue
Length of Pledge: Now & Forever
Dori's Darlings – Texas
Organization Type: No Kill Shelter or Rescue
Length of Pledge: Now & Forever
Fort Bend County Animal Services – Texas
Organization Type: Traditional Shelter or Animal Control
Length of Pledge: June 11 to…
Friends For Life – Texas
Organization Type: No Kill Shelter or Rescue
Length of Pledge: Now & Forever
Frisco Humane Society – Texas
Organization Type: No Kill Shelter or Rescue
Length of Pledge: Now & Forever
Ft. Bend Animal Services – Texas
Organization Type: Traditional Shelter or Animal Control
Length of Pledge: Just One Day
FurrEver Pets – Texas
Organization Type: No Kill Shelter or Rescue
Length of Pledge: Now & Forever
Golden Retriever Rescue of El Paso – Texas
Organization Type: No Kill Shelter or Rescue
Length of Pledge: Now & Forever
Great Dane Rescue of El Paso – Texas
Organization Type: Traditional Shelter or Animal Control
Length of Pledge: Now & Forever
Gulf Coast Humane Society – Texas
Organization Type: No Kill Shelter or Rescue
Length of Pledge: Now & Forever
Hound Haven – Texas
Organization Type: Traditional Shelter or Animal Control
Length of Pledge: Now & Forever
Humane Society of NETX – Texas
Organization Type: Traditional Shelter or Animal Control
Length of Pledge: Just One Day
Kindness Animal Rescue and Education – Texas
Organization Type: No Kill Shelter or Rescue
Length of Pledge: Now & Forever
Kingdom Kritters Rescue and Sanctuary – Texas
Organization Type: No Kill Shelter or Rescue
Length of Pledge: Now & Forever
Lampasas Animal Shelter – Texas
Organization Type: Traditional Shelter or Animal Control
Length of Pledge: Just One Day
Mandfield Animal Shelter – Texas
Organization Type: Traditional Shelter or Animal Control
Length of Pledge: Please Select
Montgomery County Animal Shelter – Texas
Organization Type: Traditional Shelter or Animal Control
Length of Pledge: Just One Day
No Kill El Paso – Texas
Organization Type: No Kill Shelter or Rescue
Length of Pledge: Now & Forever
No Kill Wilco – Texas
Organization Type: Traditional Shelter or Animal Control
Length of Pledge: Now & Forever
Operation Pets Alive – Texas
Organization Type: No Kill Shelter or Rescue
Length of Pledge: Now & Forever
PAAS- Partners of Arlington Animal Serices – Texas
Organization Type: Traditional Shelter or Animal Control
Length of Pledge: Now & Forever
Pasadena Animal Control and Adoption – Texas
Organization Type: Traditional Shelter or Animal Control
Length of Pledge: Just One Day
Pawsitively Texas – Texas
Organization Type: No Kill Shelter or Rescue *Not a rescue or shelter, but a network that supports a no kill America
Length of Pledge: Now & Forever
Phillips Fosters Rescue – TexasContact: Jess Phillips – 8172811979
Organization Type: No Kill Shelter or Rescue
Length of Pledge: Now & Forever
Pilot Point Animal Shelter – Texas
Organization Type: Traditional Shelter or Animal Control
Length of Pledge: Just One Day
Rockwall Animal Adoption Center – Texas
Organization Type: No Kill Shelter or Rescue
Length of Pledge: Just One Day
Rockwall PAWS – Texas
Organization Type: No Kill Shelter or Rescue
Length of Pledge: Now & Forever
Rockwall Pets – Texas
Organization Type: No Kill Shelter or Rescue
Length of Pledge: Now & Forever
Rowlett Animal Shelter – Texas
Organization Type: Traditional Shelter or Animal Control
Length of Pledge: Just One Day
Saving Pets Lives – Texas
Organization Type: Traditional Shelter or Animal Control
Length of Pledge: Now & Forever
Seagoville Animal Shelter – Texas
Organization Type: Traditional Shelter or Animal Control
Length of Pledge: Now & Forever
Seagoville Texas Animal Advocates & Rescue – Texas
Organization Type: No Kill Shelter or Rescue
Length of Pledge: Now & Forever
South Houston Animal Shelter – Texas
Organization Type: Traditional Shelter or Animal Control
Length of Pledge: Just One Day
South Texas Persian Rescue – Texas
Organization Type: No Kill Shelter or Rescue
Length of Pledge: Now & Forever
SPCA of Polk County – Texas
Organization Type: No Kill Shelter or Rescue
Length of Pledge: Now & Forever
Special Pals – Texas
Organization Type: No Kill Shelter or Rescue
Length of Pledge: Now & Forever
Terrell Animal Adoption Center – Texas
Organization Type: Traditional Shelter or Animal Control
Length of Pledge: June 11 to…
Texas CARES – Texas
Contact: Carol Benassi – 2147624713
Organization Type: No Kill Shelter or Rescue
Length of Pledge: Now & Forever
Town of Hickory Creek Animal Shelter – Texas
Organization Type: Traditional Shelter or Animal Control
Length of Pledge: Just One Day
Wags to Whiskers of Texas – Texas
Organization Type: No Kill Shelter or Rescue
Length of Pledge: Now & Forever
Watauga Animal Shelter – Texas
Organization Type: Traditional Shelter or Animal Control
Length of Pledge: Just One Day
Williamson County Regional Animal Shelter – Texas
Organization Type: Traditional Shelter or Animal Control
Length of Pledge: Now & Forever
Wise County Animal Shelter – Texas
Organization Type: Traditional Shelter or Animal Control
Length of Pledge: June 11 to…
Related posts: