10 February 2014
Increasing Pet Adoptions Through Creative Marketing!
I believe there is a loving home for the majority of shelter pets; they just need exposure to be found by someone who will adopt them. Pets are love. And love is celebrated during the Valentine's Day week. So what better time to tell the world about the pets available for adoption in your animal shelter or rescue group than the week of Valentine's Day?
A retail marketing model is a proven solution for increasing pet adoptions! Make a simple pet adoption poster – or invite a creative shelter supporter or local high school or college student to design one for you! Post it on social media, send to your email list (ask them to tell others), AND contact the local media and ask them to do a story on the pets in need of a home. If your shelter hours are not conducive to pet adoptions (i.e. open weekends and late evenings), change them to accommodate more adoption traffic at the shelter. Saving lives is possible, when simple, but proven pet adoption strategies are implemented! Here are seven pet adoption promotions to inspire you to create your own!
Adopt a Valentine Pet Adoptions
Arlington, Texas Animal Services

Austin, Texas Pet Adoption Promotion

Collin County Texas Adopt Love Pet Adoption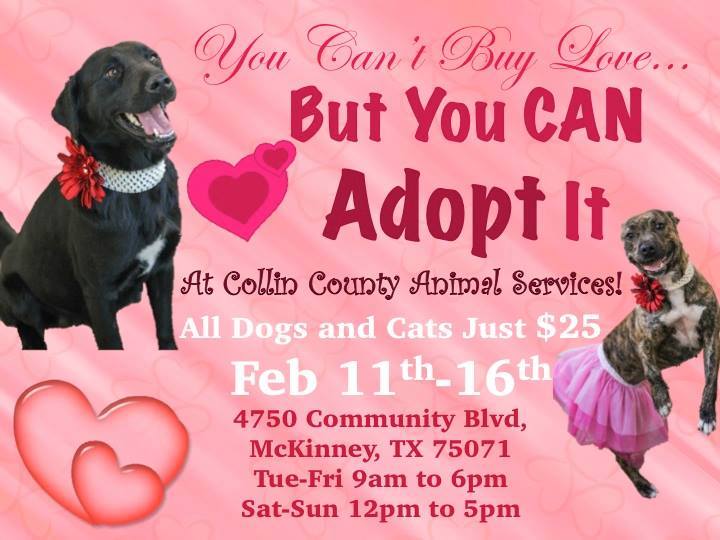 Seagoville Texas Animal Shelter Pet Adoption Promotion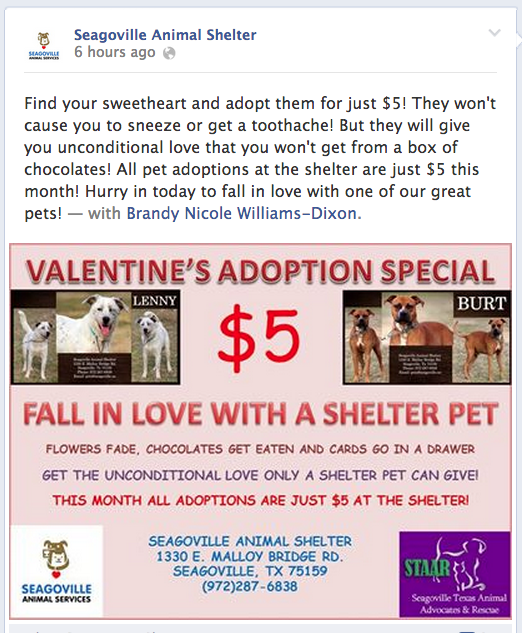 Williamson County Texas Valentine's Day Pet Adoption

Nevada Humane Society Adopt a Valentine!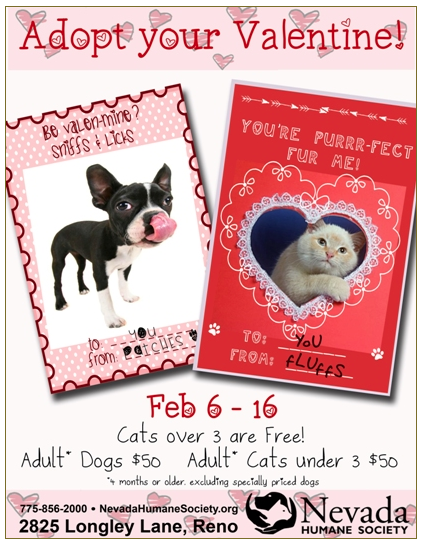 FairFax County Animal Shelter Virginia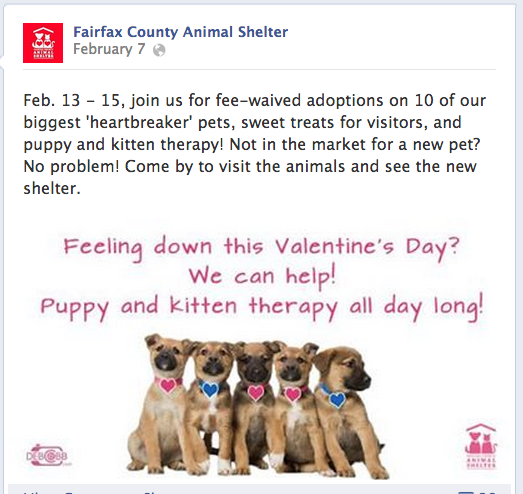 BONUS! Here is an 8th Valentine's Day Themed Pet Adoption Poster from Irving, Texas


BONUS! Here is an 9th Valentine's Weekend Pet Adoption Poster from San Antonio Pets Alive!
If you have a story of animal rescue or adoption to share, please click here to message me via the story submission form
Subscribe Now: Be sure and subscribe to join the Pack and never miss an informative Pawsitively Texas blog post! Simply add your email address, then click the Subscribe Now link. Look for the yellow/orange icon in the upper right column. No worries, we'll never spam you, you'll only receive an email notifying you of new blog posts on Pawsitively Texas. Thank you for your support of my work for the pets!