29 December 2013
On December 23, I shared a beautiful, but thin dog Aransas County shelter volunteers called Trixie. It was yet another sad story of a wonderful dog in need of someone willing to adopt her into their heart and home.  The post read …
TRIXIE HOPES & PRAYS FOR A LOVING HOME that will never let her go! Aransas County, TX – CONTACT: animalsofaransas@gmail.com

Kriss writes "Meet Trixie, dumped by her owner at the Pelican Reef Motel. This amazing girl sat patiently waiting for her family to come back … but they never did. Trixie appears to be a young Entlebucher Mountain Dog mix and is extremely intelligent. She knows how to sit, stay, and even shake hands! The owner of the motel was kind enough to let Trixie sleep in a vacant room on the coldest of nights. And guess what? Trixie waited all night until she was let out in the morning to go potty … so she's housebroken! This angel has the most beautiful markings. Trixie will make a wonderful companion for anyone willing to give her a chance. Please email animalsofaransas@gmail.com for more information on how to adopt Trixie!"

Thanks for giving Trixie needed exposure! She deserves love!
Alva
And on December 29, Kriss posted this heartwarming update! "Trixie, the very intelligent girl at Aransas County Animal Control, who had been abandoned by her "people" at a motel in Rockport, has been adopted! Thank you, Pawsitively Texas, and your supporters for sharing her. Because of you, her beautiful face, and desperate plea reached these wonderful people all the way to a suburb of Houston. Networking works!"
Here is Trixie with her new, adoptive family! Happy new life, sweet girl; you captured our hearts and we're so very proud of you! Follow the Animals of Aransas County Animal Control Facebook page to help more homeless pets find loving homes!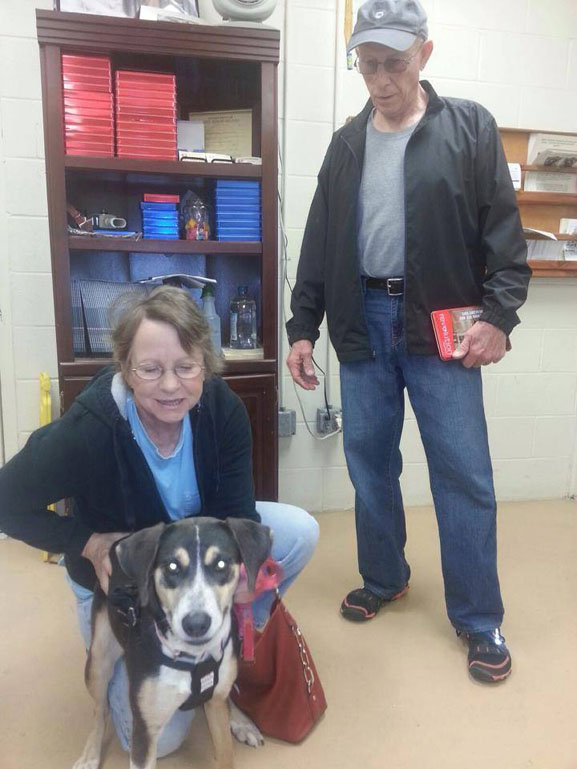 If you have a story of animal rescue or adoption to share, please click here to message me via the story submission form
Subscribe Now: Be sure and subscribe to join the Pack and never miss an informative Pawsitively Texas blog post! Simply add your email address, then click the Subscribe Now link. Look for the yellow/orange icon in the upper right column. No worries, we'll never spam you, you'll only receive an email notifying you of new blog posts on Pawsitively Texas. Thank you for your support of my work for the pets!