23 May 2014
In animal rescue, each day is often a mix of the highest highs and lowest lows. In spite of the challenges, when we show up and network these pets, we're often met with success as these dear pets are adopted or rescued. In this guest post, Fiona Green shares the highs and lows of just one week in rescue. While the lows could very easily defeat us, as Fiona shares, there simply isn't anything quite like the euphoric feeling that comes when we see wonderful pets adopted into loving homes. Read on to see how Coco, Brandy, and Tabitha found love – and the ripple effect that pet adoption love creates!
The Highs and Lows of Animal Rescue
by Fiona Green, Animal Advocates of North Texas Co-Director 

"This week it appears that everyone is doing their spring cleaning and getting rid of their pets in the process. We have received numerous e-mails from people asking if we can take their senior pets for a variety of reasons. In most cases it appears that the owners no longer have time for their pets and that they have become an inconvenience. It is heart-breaking to think that animals have become part of our throwaway society and sad to think that animals who are supposedly in their Golden Years are being discarded like an old sweater. For those of us involved in animal rescue the situation could become overwhelming if it wasn't for the other people we encounter as we work to change lives.
This week there were 2 special moments that reminded me why I do what I do. Last Sunday I happened to notice that a skinny, young Saint Bernard puppy was in the HSNT center in Keller. I contacted a Saint Bernard friend in San Antonio and she immediately arranged to adopt her. On learning that there was also an 8 year old female in need of a home, she agreed to adopt her too. Without even being asked, my wonderful co-director, Chris Ryder (pictured below with Coco and Brandy) offered to drive the dogs to San Antonio. They will be leaving on Saturday, ready to embark on a new adventure. Another success story.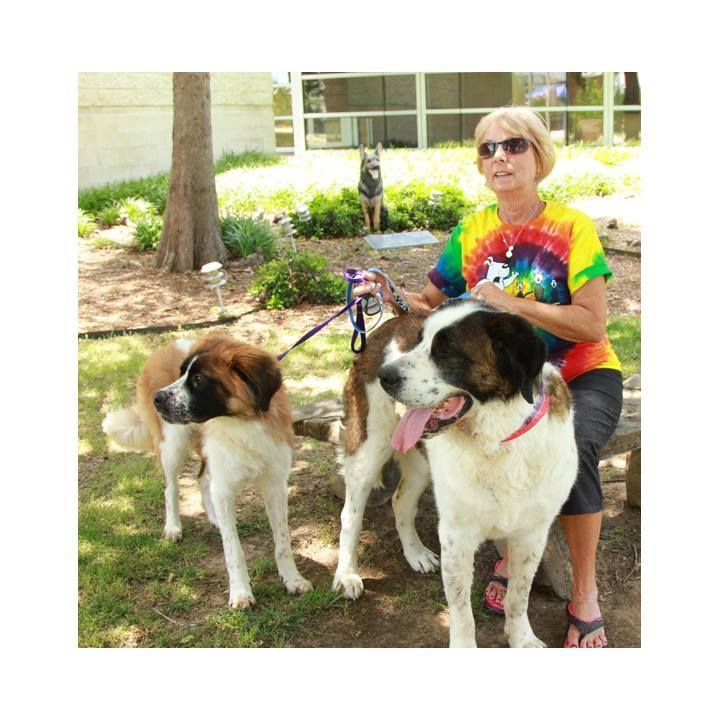 This evening I received an e-mail from a lady who had adopted a cat from the shelter last December. The cat was an adult, grey tabby named Tabitha. Her new family apparently adore her and cannot imagine life without her. She is spoiled rotten and could not be in a better home. Since Tabitha is such a wonderful cat, another family member is now also ready to open his home to a feline in need.
We cannot say enough about the importance of networking in animal rescue. It really does save lives! Thank you to everyone who shares our passion. You make a difference."
Thanks Fiona for a great article about the power of networking in saving homeless pets! Follow Animal Advocates of North Texas on Facebook!
 – – – – – – –
Subscribe Now: Be sure and subscribe to join the Pack and never miss an informative Pawsitively Texas blog post! Simply add your email address, then click the Subscribe Now link. Look for the yellow/orange icon in the upper right column. No worries, we'll never spam you, you'll only receive an email notifying you of new blog posts on Pawsitively Texas. Thank you for your support of my work for the pets!
The Homeless Pet Project
Coming Soon! The Homeless Pet Project is a resource website that features videos with expert no kill leaders and strategies to implement in building a no kill shelter and community. Please check it out and share this link; if you register, you'll receive an email (never spam) when the site launches: http://HomelessPetProject.com
Cat and Dog Lover T-Shirts!
Find Must-Have, Casual Wear for Dog & Cat Lovers at the UltimuttLife.com! Select a design from more than 100, then choose a tee, color, and size for a semi-custom cool t-shirt! Click here to shop!