19 May 2014
No Distance Too Great – A Pet Adoption Story!
How lucky can one little dog be?!
Mason, Texas, the county seat of Mason County, has a population of just 2,117. This tiny, rural community is fortunate to have, Second Chance-Mason Animal Rescue, a group of volunteer working to give the shelter pets needed exposure to find loving homes.
On April 30, Jennifer shared Zoe on Pawsitively Texas, an adorable, young Chi-Weenie dog that had only two weeks to find a home, or she would become another tragic shelter statistic and be killed. She was less than a year old – and so, so cute!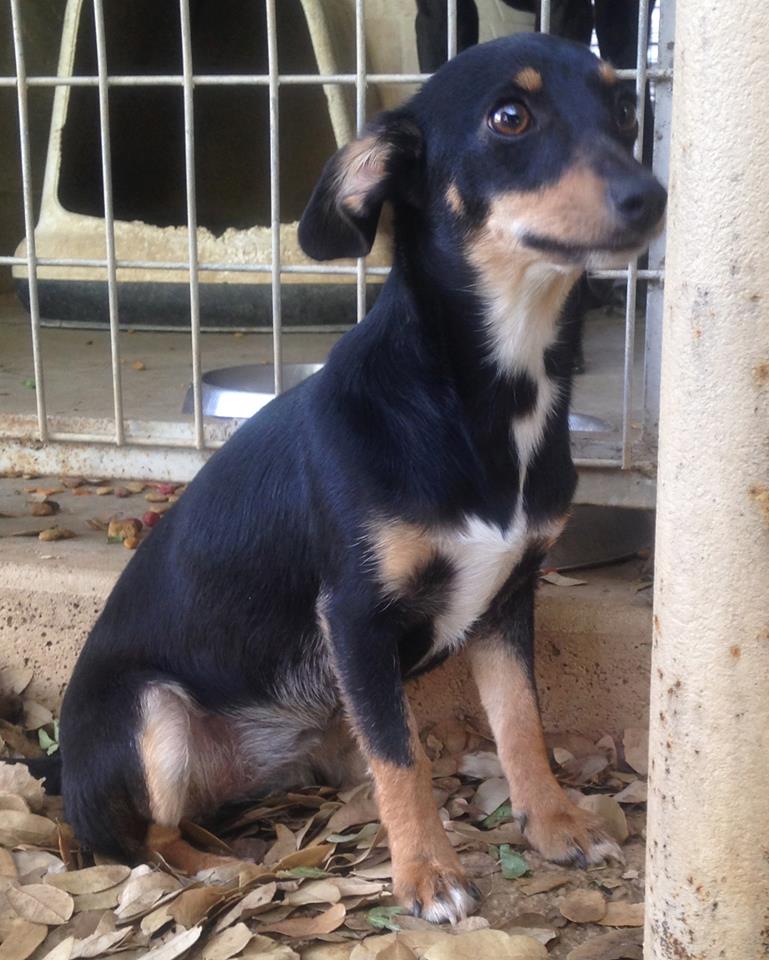 The compassionate folks that follow the Pawsitively Texas Facebook page sprang to action and shared Zoe, as they do all the other beautiful, adoptable pets posted. Zoe captured a lot of hearts, but it was Brenda that got her application submitted first to adopt Zoe! Never mind that Brenda's family lives in Fort Worth, they were willing to make a day of driving to this small, rural community to bring their new family member home! And when their GPS mistakenly directed them to San Angelo instead of Mason, Texas, Jennie provided transport for Zoe to assure she could be adopted by the family that already loved her.
Brenda shares their adoption story here …
Dear Pawsitively Texas,
Thank you so much for the wonderful work you do in finding forever homes for these precious little souls! We drove 4 hours there and back to adopt the new member of our family Zoe pictured in the middle. If everyone knew what love and joy these fur babies bring into our lives, they would adopt! Zoe can't stop licking and snuggling us!!!! As if to show how very grateful she is!!! And we are so grateful for you and Second Chance Rescue in Mason Texas! Your Compassion is inspiring! We share your posts and pray for all of you daily. 
With love from the Blaze Family
I love the way Zoe (center) is looking at her new mom in this photo! Not only did Zoe get a beautiful family to call her own, she now also has two fur siblings to have fun with too!
Thanks to everyone that makes pet adoption stories like Zoe's possible! Please be sure and like the Second Change  Animal Rescue's Facebook page: http://www.facebook.com/SecondChanceMason and check out the other wonderful pets in need of adoption on their website: http://www.secondchancemason.com/

If you have a story of animal rescue or adoption to share, please click here to message me via the story submission form
Subscribe Now: Be sure and subscribe to join the Pack and never miss an informative Pawsitively Texas blog post! Simply add your email address, then click the Subscribe Now link. Look for the yellow/orange icon in the upper right column. No worries, we'll never spam you, you'll only receive an email notifying you of new blog posts on Pawsitively Texas. Thank you for your support of my work for the pets!
The Homeless Pet Project
Coming Soon! The Homeless Pet Project is a resource website that features videos with expert no kill leaders and strategies to implement in building a no kill shelter and community. Please check it out and share this link; if you register, you'll receive an email (never spam) when the site launches: http://HomelessPetProject.com
Cat and Dog Lover T-Shirts!
Find Must-Have, Casual Wear for Dog & Cat Lovers at the UltimuttLife.com! Select a design from more than 100, then choose a tee, color, and size for a semi-custom cool t-shirt!