23 October 2013
In animal rescue, you'll find some of the biggest hearts and most compassionate people you could ever hope to meet. But sadly, there is also way too much drama and unfounded attacks that continually rip through the community. I especially see it whenever the no kill discussion comes up. Since launching Pawsitively Texas in late 2008, I've been able to observe the animal welfare community and have been repeatedly heartbroken, yet consistently inspired.
I've been inspired by the people who, bottom-line, believe killing animals is wrong and work to implement proven and innovative solutions to save them. I'm deeply saddened by the people who oppose no kill because they do not understand it and spend their time tearing it down vs. actually implementing the programs that work.
It's very easy to be overwhelmed and to buy into the lie that there is nothing that can be done but to "humanely" kill the animals.  But it's just that, a lie. This is the reason I believe that …
Until a shelter has partnered with community volunteers and implemented the 11 point no kill equation, all 11 points, they will continue to feel overwhelmed and there are no alternatives. It's a matter of cup half full or cup half empty. A positive person seeks solutions while a negative thinking person focuses on the many problems and stalls in the mission to save the lives of shelter animals.
The no kill equation was designed by Nathan Winograd of the No Kill Advocacy Center. Many people love him for the amazing work and life-saving contributions he has made, while others dislike and attempt to discredit him for taking on the national, multi-million dollar, donor-funded animal welfare organizations. Regardless of how you may feel about Winograd the person, his programs, once properly implemented, undeniably save lives. And isn't that our mission in animal rescue? Focus on what is important; don't get distracted.
The 11 Point No Kill Equation by No Kill Advocacy Center
1. Feral Cat Trap-Neuter-Release (TNR) Program – feral cats in an animal shelter environment will be deemed unadoptable and killed. Feral cats who've been spayed/neutered and released do not contribute to a population explosion, but contribute to the eco-system; some go on to have active jobs as barn cats keeping down the unwanted mice population.
2. High-Volume, Low-Cost Spay/Neuter Program – these programs are needed in every community along with an active PR campaign to reduce the number of unwanted litters entering the animal shelter which is a sure and immediate death in so many shelters across the U.S. Some people believe this is the ONLY solution, but I believe it is a key component of an 11-point plan.
3. Rescue Groups – animal shelters need to partner with rescue groups and have a rescue and volunteer list that they email daily or weekly with available and  urgent pets. Rescue groups alone can not solve the problem, but as a partner to the shelter, they can be an invaluable and powerful partner in moving pets out of the shelter environment swiftly and into a loving home.
4. Foster Care Program – increase shelter capacity (free up kennel space) by moving available pets into foster homes where they will be less likely to catch an illness or become depressed and more likely to be adopted quickly.
5. Comprehensive Adoption Program – animal shelters must market their facility as "the place" to find a pet in the community. You'll often find that people didn't even know their shelter exists; that's a marketing problem. I understand many shelters are often underfunded and understaffed, that's why the community partnership is so critical to the success of saving lives. Shelters can assemble a marketing team (professionals, college interns, etc.) that create innovative pet adoption and public relations campaigns. By utilizing the community resources as a shelter partnership, animal shelters can do so much more without requiring additional funding or staffing from the city.
6. Pet Retention – owner surrender animals often fill up a shelter. But sometimes, an owner really loves their pet and is in desperate need of help. Perhaps a landlord requires a pet deposit they can not afford. Or their pet needs medical care. Or training. A shelter program like Austin Pets Alive's Positive Alternatives to Shelter Surrenders, is a community partnership where PASS will assist pet owners enabling them to keep their pet. And in those situations where an owner believes they have no other alternative but to give up their pet, a PASS program will assist the pet owner in finding a new home, vs. taking their pet to the shelter.
7. Medical and Behavior Programs – some animals enter the shelter system in need of medical care or with correctable behavior problems. Some animals become ill in the shelter environment and then move to the shelter kill list, vs. finding a loving home. A comprehensive vaccination, animal handling, and cleaning protocol reduces the spread of illness in a shelter. Care and rehabilitative, as well as fundraising campaigns, help an innocent animal receive the care needed to be healthy and adoptable. With the gift we have in social media, many shelter partner rescues now post a pet online and include a link to a fundraiser like petcaring.com. People see the pet, they can neither adopt or foster, but they can spare $5 and suddenly enough money has been raised to pay for the pets' spay/neuter, vaccinations, and surgery or med care for an illness or injury. An animal rescue group can more easily bring a pet into their care if they do not have to determine if they can first raise enough funds to cover the pet's expenses; they can pick up the pet from the animal shelter and take directly to the vet. A much more efficient and cost-effective system for saving animals.
8. Public Relations / Community Involvement –  as mentioned previously, the community will often help if they only know the need and are allowed to become involved. A comprehensive PR/social media program establishes your presence in the community. A shelter is not expected to save every animal on their own manpower and budget; partner with the compassionate members of the community for a powerful, life-saving partnership. I believe every single shelter in America needs an active PR/social media team with access to the shelter population (strays, adoptables, and kill list). The "stray" team can search stray hold intake and compare to "lost pet" posts on social media and classifieds. The adoptables and kill list team can generate exposure and raise funds for pets to increase their chance at adoption.
9. Volunteers – as stated and illustrated in the previous points, volunteers are the foundation, the backbone, of a proactive animal shelter committed to saving lives. There is simply no other way to truly increase the save rate of a shelter without dedicated volunteers working in tandem with shelter staff to help the animals. They are the partners needed to implement proven and innovative programs that will save lives.
10. Proactive Redemptions – move from the passive "catch/hold/kill" method of animal sheltering into a proactive mission to help owners be reunited with their beloved pets. If a pet owner does not know a shelter even exists, they will not know to look for their pet there. As mentioned previously, have a volunteer(s) focus on the stray intake. Give them access to take photos and post online; they will then search other online posts/pages and classifieds to match lost pets with the strays sitting in the shelter missing their family.
11. A Compassionate Director – a compassionate shelter director is vitally important in a cultural change for an animal shelter. If a shelter employs a director who has little regard for animals or is just in the job for a paycheck, they have not properly staffed the shelter. In every field, employers seek the most qualified candidate; why should animal shelters be any different. The desired candidate is not only one that desires to provide animal control for the community, but one who wishes to help reunite families with lost pets, provide care for the animals in the shelter system, and partner with the community to reduce shelter intake and increase the live release rate. If the candidate does not embrace these philosophies, they are the wrong person for shelter leadership and should be redirected to a position that more closely reflects their skills and interests.
Killing as a means of animal population control is the easy way; but it's also inhumane and immoral. Building and maintaining a no kill community takes hard work, dedication, commitment – but you don't have to figure it out for yourself! Implement the no kill equation and build a shelter/community partnership that works.
Here are two additional articles you'll want to read and share; in these articles, you'll meet people who have led their community to no kill and see the obstacles they overcome to do so. Click on the blue, bold titles to read, then please share! We have the solution to save more lives, we just need to spread the word and rally local community volunteers to implement the programs with their shelter.
Click to read Building a No Kill Community – No Experience Needed
Achieving Success Despite the Obstacles – click the arrow to watch this inspiring video.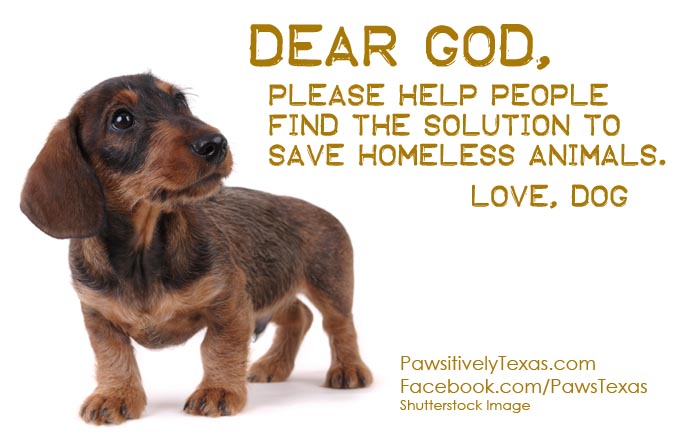 Subscribe Now: Be sure and subscribe to join the Pack and never miss an informative Pawsitively Texas blog post! Simply add your email address, then click the Subscribe Now link. Look for the yellow/orange icon in the upper right column. No worries, we'll never spam you, you'll only receive an email notifying you of new blog posts on Pawsitively Texas. Thank you for your support of my work for the pets!