January 16, 2012
Righting American Wrongs
America pauses this week to remember and honor Dr. Martin Luther King, Jr. A brave man guided by his moral convictions to advocate change for the civil rights of a people that had long been abused, oppressed, and held back. He knew that racial segregation and racial discrimination were wrong and even though it was unpopular to do so he stood up, advocating for this long-accepted American Wrong to be Righted. He was assassinated in 1968, but his dream, his vision, lived on and eventually became a reality. The liberty today is the result of the passionate leaders that believed and were willing to take action.
I think about the American Wrongs that were once accepted, but that have been righted as we have progressed as a nation and as a people. An end to slavery, civil liberties for minorities and women … but these liberties didn't just happen. They are the result of a passionate people that recognized the wrong and fueled by their passion, decided to advocate change and would not accept defeat. I see a lot of similarities in our desire to end the senseless killing of beautiful, adoptable animals.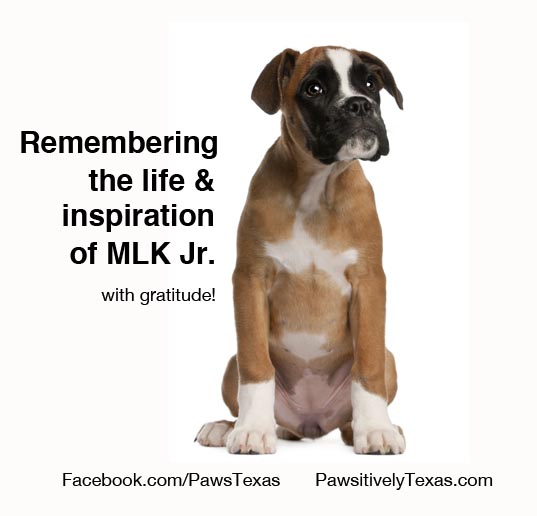 For far too long, America has accepted the 'catch/hold/kill' method as 'animal control' in our communities. We accepted the excuses and incorrect assumptions that "there are just too many" "it's the only way" "it's not our fault" … and we tell ourselves that we are humanely handling the issue of the animals in our communities – by killing the pets. But I believe killing beautiful shelter pets to make room for more shelter pets to kill is another antiquated and barbaric American Wrong that must be Righted. And today, we have a better chance of implementing that change in our communities than ever before because we have a no kill blueprint. We don't have to start with a blank page and figure it out ourselves; we have a proven plan that is working in Texas communities and in shelters throughout the US. Like all change, it will take work, but we have the opportunity to Right the wrong of killing adoptable pets. And the momentum is building as more people become aware of the millions of beautiful pets being killed and wish to see it stopped.
Will you be a part of the solution? Pawsitively Texas is hosting a No Kill Workshop March 10, 2012. Our speaker panel is stellar, no kill leaders from all four Texas no kill communities and national advocate Nathan Winograd. Like you, I am one person. Pawsitively Texas is me (Alva), not a staff. No budget. Just recognition that the current way is the wrong way and a desire to do something to result in change. I believe it is the morally right thing to do. And I believe that change begins with a first step. And when I took the first step, I found others would join me. The Pawsitively Texas Facebook network is more than 33,000 strong now because people share my vision. Without hesitation, each speaker accepted my invitation to speak. So, the No Kill Workshop is a lot like Pawsitively Texas. You recognize a wrong, determine what you can do to make a difference, take the first step, and discover along the way that others share your vision and will stand with you for change. I share that only for the purpose of helping you to believe that YOU can make a difference … if you sometimes feel "What can I do? I'm just one person" please know that there is something each of us can do regardless of time, talent, age or money. There's a place for each of us to help the pets!
Please take a moment and watch this short clip of Dr. King. Our world is much different today than when Dr. King first spoke up for his dream; what a brave, impassioned, and inspiring man he was! His inspiration lives on. May God rest his beautiful soul. Below the video are links with more information about the No Kill Workshop; I really hope you will attend. It's the first ever opportunity for the North Texas area to come together with the shared vision for saving the lives of our pets and learn how to do so. We can do this! We just need you to join us!
Click here for the DFW No Kill Workshop Details
Click here if you would like to be a Sponsor for the DFW No Kill Workshop
Click here if you would like to see how much money we have raised to help underwrite the workshop to make it affordable to all; this is the DFW No Kill Workshop ChipIn Account
This article shares how much is needed to pay for the workshop and how the money will be used; click here
This link lists all of our Individual Contributors and Sponsors: http://pawsitivelytexas.com/dallas-ft-worth-no-kill-workshop-save-the-date/no-kill-workshop-contributors-sponsors/
Related posts: